Web Marketing with Online Classifieds
Web Marketing with Online Classifieds
Although individuals use online classified sites as a grand electronic swap meet, your business can use them to sell merchandise, services, entertainment, or commercial rentals. Jean Antoine's Mobile Cafe, shown in the following illustration, advertises on Craigslist — one of the best-known classified-ad sites — to send a personal chef to your home.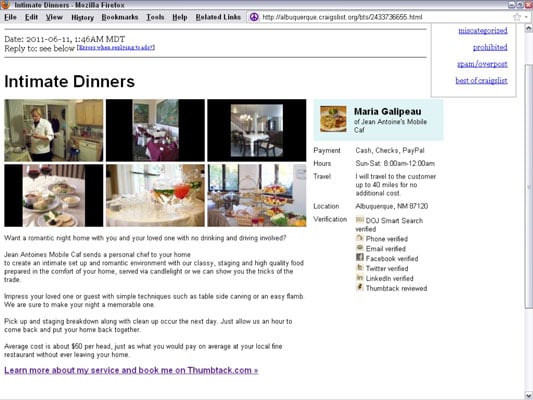 Credit: Courtesy of Jean Antoine's Mobile Cafe
Jean Antoine's Mobile Cafe, which sends a personal chef to your home, advertises on Craigslist.
Choose from either free or low-cost independent classified sites, classified sections of MySpace, Yahoo!, and other portals, or product-specific classified sites for cars, apartments, and pets.
Because classifieds are generally designed for local advertising, you must post them on multiple sites for broad coverage. To help you overcome this time-consuming hassle, services such as Postlets and vFlyer offer easy, multiple postings to many classified sites at once.
Writing a good classified is an art. Keep these principles in mind:
Grab attention with the title. Use strong, emotional words that pack a punch.

Repeat descriptive text from the title in the body of the ad. This strategy creates maximum effect.

If you're offering a service, include its main benefit in the title. Sales are always about "what's in it for me?"

Avoid the use of all caps. They now often imply that you're shouting.

Avoid the excessive use of exclamation points. Try to contain your excitement so that you don't wear anyone out.

Include a picture, if possible. A picture is still worth a thousand words.

Give people explicit instructions. Tell them how to find more information or make a purchase (call to action).

Include a link to your website. Following this advice is good for search engine ranking, too.

Resist the temptation to post your primary e-mail address online. Instead, create a free, temporary address at Gmail, Yahoo!, or Hotmail. You certainly don't want to receive more spam than you already do.

Test different titles and copy. This way, you can find out what works best.

Write separate ads for different items. It's easier to draw the right audience for one specific item than to attract multiple audiences to a smorgasbord of values.

Proofread your ad carefully. Be sure that you use correct spelling and grammar.
These principles are a lot like the ones you use for writing pay per click text ads and web copy. Classified ads also perform better (draw a larger response) when you write them in active voice and second person (using the word you).