Search Terms for Your Pay Per Click Marketing Campaign
Search Terms for Your Pay Per Click Marketing Campaign
Selecting the appropriate pay per click (PPC) search terms for an ad is much like selecting keywords for SEO. You might find it helpful to use PPC ads for search terms on which you don't appear on the first page of search results. Bing/Yahoo! offers a search term selection tool that includes historical use.
In the following illustration, Yahoo! suggests keywords based on synonyms for the words you enter or for words found on your website. From the resulting list on the left, you select the ones you want to use on the right.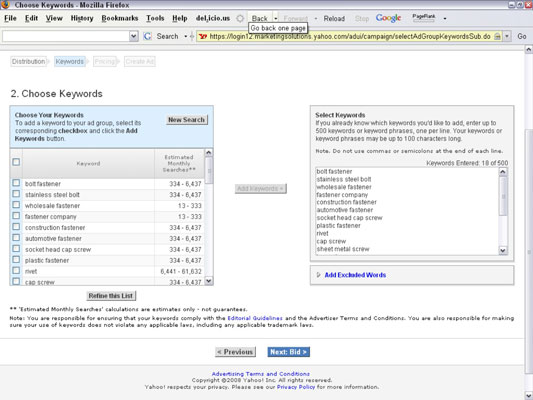 Credit: Reproduced with permission of Yahoo! Inc. © 2011 Yahoo! Inc. YAHOO! and the YAHOO! logo are registered trademarks of Yahoo! Inc.
Google also offers a search term selection tool based on historical use, as shown in the following. The Google Keyword Tool, which is available as you set up your AdWords campaign, offers keyword suggestions as well as detailed projections. You can designate some suggestions as negative keywords to be ignored, as shown in the pop-up. The tool is also available externally at Google Adwords Targeting Explorer.

Credit: Courtesy of Google, Inc.
Both Bing/Yahoo! and Google let you
Enter terms to search for synonyms

Crawl your pages to suggest terms

Suggest terms based on your current search terms and ads
See Microsoft Advertising Intelligence and Google Adwords Targeting Explorer for more information on Bing/Yahoo! and Google, respectively.
As with natural SEO, select targeted search phrases rather than single words. Also, don't select terms that are longer than most users will type. If terms are difficult to spell, you might want to include common misspellings also, such as O'Keefe for Georgia O'Keeffe.
If you aren't sure whether to include a search term, use it. Start with too many terms and delete the ones that don't perform; sometimes, a term is successful unexpectedly. You can and should apply keyword ideas you find on WordPot or other keyword suggestion sites, such as Nichebot or Key Word Discovery. Don't forget search terms used by existing users, which are usually available in your traffic statistics.
As with regular search term selection, not everyone uses the same words when looking for an item. People from different regions and countries and who use different dialects may use different words to refer to the same item. Are you selling buckets or pails? Is that a stroller or a pram?