How to Buy Something on Etsy
How to Buy Something on Etsy
As you browse or search the gazillion items available for sale on Etsy, you're bound to find a thing or two (or 7,968) that you simply can't live without. Fortunately, Etsy makes buying a breeze. All you do is add the item to your cart, check out, arrange for payment, and submit your order.
To add an item to your cart and check out, follow these steps: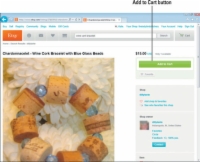 1

Click the Add to Cart button found on the listing page for the item you want to buy.

Etsy displays your shopping cart.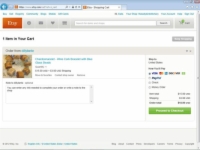 2

If you want to continue shopping, click the Keep Shopping button. (If you click Keep Shopping, you can return to your cart at any time by clicking the Cart link along the top of every Etsy page.)

Got cold feet? No worries. You can remove the item from your cart by clicking the Remove link. You can also click the Contact Shop Owner link to launch a convo with the shop owner. This option is helpful if you have questions about the item.
3

Under How You'll Pay, indicate how you want to pay for the item.

Note that the options available here may differ by shop. Options include gift card or credit card (what Etsy refers to as "Direct Checkout"), PayPal, check, and money order.

Some Etsy sellers issue coupon codes for their shops. When a seller issues a coupon code, a special Shop Coupon Code field appears. If you have a coupon code for the shop you're buying from, you enter it in the Shop Coupon Code field and click the Apply button. Etsy updates your Order Total information.
4

If you want, type a note to the seller in the Notes section.

Adding a note is important if you want to make a special request or you have a unique specification. In addition, in their item descriptions, some sellers request that you leave specifics about your order here — for example, personalization information.

Note: When you purchase some items, you'll be prompted to supply additional information, such as size, quantity, or color.
5

Click the Proceed to Checkout button.

Note that the exact verbiage on this button differs depending on which payment method you choose in Step 3.