Protect Your eBay Transactions with Shipping Insurance
Protect Your eBay Transactions with Shipping Insurance
When you're shipping a large amount of eBay merchandise on a regular basis, you're going to have to deal with the issue of whether you buy insurance against damage or loss. You, as the seller, are responsible for getting the product to the buyer.
Self-insure your items
Some sellers on eBay self-insure their packages. In other words, they take the risk and use money out of their own pockets if they have to pay a claim. In this sense, self-insuring is considered seller's jargon, not an official legal status (only licensed insurance agents can offer insurance).
These sellers are usually careful about packing their items to prevent damage. They also use tracking numbers when using the Postal Service.
Insure through the major carriers
All the major shippers are in the shipping business, not in the insurance business. Insuring is an annoying — but necessary — sideline to their package-transit businesses.
Most carriers, other than the United States Postal Service, cover all shipments automatically for the first $100 of package value. By the way, the package value of an item sold on eBay is the final bid amount. Of course, you can always buy additional package insurance for your shipped items. Should a package get lost or damaged, making a claim opens an entirely new can of worms.
Note that FedEx and UPS clearly state that they offer "Declared Value Liability" instead of "insurance." Declared value indicates the carrier's liability for a shipment. Both carriers only cover up to $100, and you must pay fees for their additional liability coverage.
Shipper
Shipper Rate
FedEx Declared Value
$0.85 per $100 (after first $100 of value) $2.55 minimum
UPS Declared Value
$100.01 to $50,000.00 (after first $100.00 of value) plus $.90
per each $100.00 (or part of $100.00) up to $50,000.00 $1.80
minimum
USPS
$1.95 for $0.01 – up to $50.00 value
$2..45 for $50.01 – $100.00 value
$3.05 for $100.01 – $200.00 value
$5.10 for $200.01 – $300.00 value
$5.10 for up to $300.00 value plus $1.15 for each additional
$100 of value over $300.00
Private, discounted shipping insurance
If you think that printing your own postage is slick, you're gonna love electronic insurance. eBay offers insurance through ShipCover when you purchase postage and print labels through eBay. Your insurance value may be declared in any amount from the selling price of the item to a maximum of $1,000.
When you purchase ShipCover insurance to cover your USPS parcels through eBay, you are also charged a surplus line tax and stamping fee.
As you know, USPS rates change from time to time, and those changes may not always show up immediately on the eBay site. Check for changes in postal rates.
Insured value
Price in Addition to Postage
Surplus Line Tax*
Stamping Fee*
$0.01 to $100.00
$1.65
3%
None
$100.01 to $200.00
$3.30
3%
0.20%
$200.01 to $300.00
$4.95
3%
0.20%
$300.01 to $400.00
$6.60
3%
0.20%
$400.01 to $500.00
$8.25
3%
0.20%
$500.01 to $600.00
$9.90
3%
0.20%
$600.01 to $1,000.00
$9.90, plus $1.65 for every additional $100.00 over
$600.00
3%
0.20%
An even less expensive alternative is the very popular Universal Parcel Insurance Coverage (U-PIC) service, which has provided discounted package insurance for over 22 years. U-PIC removes the post-office-insurance hassle because you can handle your insurance electronically. You can insure packages that you send through USPS, UPS, FedEx, and other major carriers. If you use U-PIC insurance on USPS-shipped packages, you can save up to 80 percent on insurance rates.
Here are some great features of the U-PIC service:
No time wasted standing in line at the post office: The U-PIC service is integrated into online postage solutions such as Endicia.

Quick payments on claims: If you have a claim, U-PIC pays it within 7 days of receiving all required documents from the carrier.

Blanket approval: U-PIC is approved by all major carriers. And turnabout is fair play: All carriers covered must be on the U-PIC approved carrier listing.

Savings: Again, depending on the quantity and type of items you ship, using U-PIC may save you up to 85 percent on your insurance costs.
FedEx charge $.85 per $100.00 of package value with a $2.55 minimum. And UPS charges $0.90 per $100 with a $1.80 minimum. By using U-PIC, you can insure your FedEx and UPS packages for $.25 to $.40 per $100.00 value with no minimum.
| Coverage | USPS | U-PIC |
| --- | --- | --- |
| $.01 to $50.00 | $1.95 | |
| $50.01 to $100 | $2.45 | $.25 – $.40 |
| $100.01 to $200.00 | $3.05 | $.50 – $.80 |
| $200.01 to $300.00 | $5.10 | $.75-$1.20 |
You can visit the U-PIC website and poke around, but to get the best information, call U-PIC at the toll-free number. At the end of each shipping month, you fax, e-mail, or snail-mail your shipping reports to U-PIC.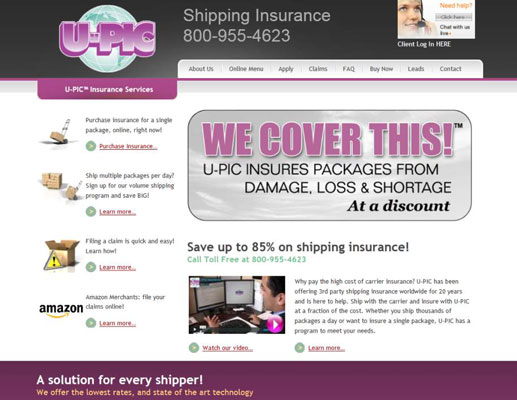 Apply for your own U-PIC policy — with no charge to apply and no minimum premium.
To apply for the U-PIC service, you must fill out a Request to Provide (RTP) form. You must answer questions about who you are, how many packages you send, how many insurance claims you've filed in the past two years, and your average value per package. After you fill out the online form and agree to the policy (Evidence of Insurance), a U-PIC representative will contact you within 48 hours.
To place a claim with U-PIC on a USPS shipment, just go to the U-PIC website, click the Claims link, and then choose an option from the File a Claim Online menu. You must supply the following:
A signed letter, stating the loss or damage from the consignee

A completed U-PIC claim form (one claim form per claim)

A copy of the original invoice or the end-of-auction form
If you're a high-volume shipper, you can negotiate an even lower rate with U-PIC. To reach U-PIC, call toll-free at 800-955-4623.