How to Stream from Your Facebook Business Page with the Livestream Application
How to Stream from Your Facebook Business Page with the Livestream Application
You can create your own real-time broadcast and have a real-time chat box at the same time, directly from your Facebook business Page, thanks to the Livestream application!
There's no fee to set up your Livestream application, but you have to go through a simple verification process before you can have more than 50 viewers at the same time. Livestream uses this process to limit piracy. After you go through this initial process, you have access to live streaming to an unlimited number of viewers.
If you want to use the Livestream application to create and broadcast your own video through your Facebook Page, you need a Livestream account. (If you want to broadcast from an existing Livestream account, whether that account is your own or someone else's, you can skip this process.)
To set up a Livestream account, follow these steps:
You go to the Livestream Account Center page.

2

Enter a name for your channel.

As you type your channel name, Livestream populates the Short Name and Channel Page fields, and instantly lets you know whether the name is available. (If not, you need to choose a new name.)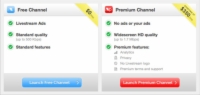 3

On the same page, click Launch Free Channel or Launch Premium Channel.

The premium channel lets you stream with no advertisements; however, that channel costs $350 per month. If you're okay with ads, choose the free channel.
4

Enter your sign-up information and click Sign Up in the bottom-right corner.

A Congratulations! screen confirms your sign-up.