How to Link Your Facebook Marketing Page to Twitter
How to Link Your Facebook Marketing Page to Twitter
If you want to send your marketing posts from your Facebook Page to Twitter, you can do that easily and automatically through Facebook. This isn't a bad thing to do, because typically, you're posting to your Facebook Page less frequently than you post to Twitter. Also, the Twitter community accepts more-frequent posts than the Facebook community does.
Just keep in mind that Facebook status updates can be 60,000 characters long — way longer than the 140-character limit of a tweet.
To make the connection, log in to your Facebook personal Profile. (Logging in as your Page doesn't work with these steps.) Once you are in the application, you will specify the Page where your tweets will be sent. Just follow these steps: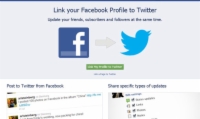 You can open a new window in your browser or just type the URL in your browser window. You see the screen displaying all the Pages of which you're an admin.
2

Click the Link a Page to Twitter hyperlink just below the Link my Profile to Twitter button.

You are taken to a screen that shows the Pages where you are an Administrator.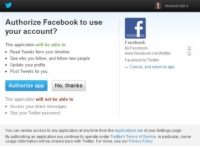 3

Click the Link to Twitter button next to the Page you want to link.

You go to Twitter to authorize this action. If nothing happens when you click the Link to Twitter button, your pop-up blocker may be blocking the access to the site, and you may need to allow access.

If you're not logged in to your Twitter account, you'll be asked to log in at that time to authorize the postings. But if you are logged into Twitter, make sure you're logged in to the Twitter account that you want to link to that Facebook Page, rather than a different one!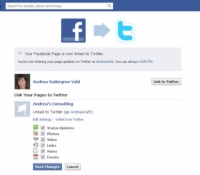 4

Click the Authorize App button to allow posting to your Twitter account.

You're redirected to Facebook, where your Page is now confirmed to be linked to Twitter. You can select exactly the types of posts you want to tweet.
5

Clear the check boxes of the items you don't want to send to Twitter and click Save Changes.

If you ever decide to stop tweeting your Page posts, just go back to www.facebook.com/twitter, and click the Unlink from Twitter link to stop the tweeting. You can also use this link to change the settings of what is tweeted out.