How to Link Your Company's Google+ Page to Your Website
How to Link Your Company's Google+ Page to Your Website
You should really consider linking your company's Google+ Page to your website. You can do this through a small snippet of code Google gives you or a Google+ Badge for your Google+ Page that you can put anywhere on your website.
To link with code (which just tells Google+ that the Google+ Page is owned by your website), follow these instructions:
1

Log in as your Google+ Page by clicking your name in the upper-right of plus.google.com and selecting your Google+ Page from the drop-down list.

At this point you should be able to post as your Google+ Page, and you'll be on the news feed for your page.
2

Go to your Profile section for your page via the links on the left.

This will take you to the profile page for your Google+ Page.
3

Select the Edit Profile button in the upper-right (or somewhere at the top, depending on your screen resolution).

Now you'll be in edit mode for your profile.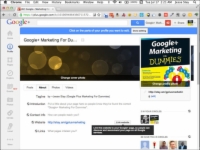 4

Make sure you've entered your website in your page's profile, and click the Link website button.

To add a website, just click the website field for your page's profile, and you'll be able to add a link for your website. The Link website button is on the right and will initiate a dialog on top of the page that gives you a code snippet you can copy and paste into your website.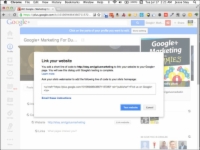 5

Copy and paste the code where you want it to go in the HTML for your website.

By default this shows up as an <a> tag that you can paste as a link anywhere on your website. If you don't want this visible to visitors, just interchange the a with link so it's a <link> tag instead of an <a> tag, and leave all the other attributes there. You can then place it in your website's <head> section where the average visitor won't see it.