How to Install the Livestream Application on Your Facebook Business Page
How to Install the Livestream Application on Your Facebook Business Page
After you have established a Livestream account, you're ready to install the Livestream application and add it to a Facebook tab on your Page, as follows:
1

Log in to your Facebook account.

Log in as you normally would.
Make sure you have already created your account.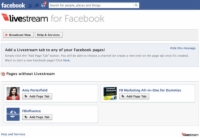 3

Locate the Page where you intend to use the Livestream application.

If you already have several Facebook Pages, you see all of them listed below Pages without Livestream. If you've created only one Page, you see only that Page listed.

4

Click the Add Page Tab button for the Page where you intend to use Livestream.

You're taken to a permission request page.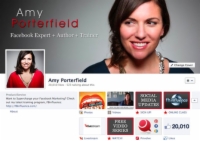 5

Click Add Livestream to accept the permission request.

Livestream requires permission to access your basic information, including name, Profile picture, gender, networks, user ID, list of Friends, and any other information you've shared with everyone.

After you accept the permission request, you're taken to your Page. Your new Livestream tab is viewable, along with your other existing Page tabs.