How to Edit Your Business's Contest Photo on Facebook
How to Edit Your Business's Contest Photo on Facebook
If you have chosen to have a contest on your Facebook business Page, you will want to get plenty of exposure to drive traffic to your Page. This might be more successful if you have an enticing cover photo for your contest to intrigue your followers and other potential customers. To edit the cover photo for the app if you want it to be more eye-catching, follow these steps: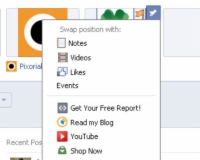 1

Click the pencil icon in the top-right corner of the app.

When you click the pencil icon, a drop-down menu appears.
2

Choose Edit Settings from the drop-down menu.

A pop-up window appears with options for editing.
4

Click Change to select an image from your computer.

A pop-up window appears. This is where you will select your desired image. Make sure you have it saved to your computer.
5

Select the image file you want to use. Then, click the Open button to add your selected image as the Tab Image.

The image is changed and should display the file you have chosen.