How to Edit the Follow Settings for Your Facebook Business Page
How to Edit the Follow Settings for Your Facebook Business Page
After you turn on your Follow button for your business Page in Facebook, you need to adjust the settings for Comments and Notifications. Both settings are important. You can go back and change these settings at any time, so don't stress about them too much at this point. See how everything goes; you'll know what you need to change over time.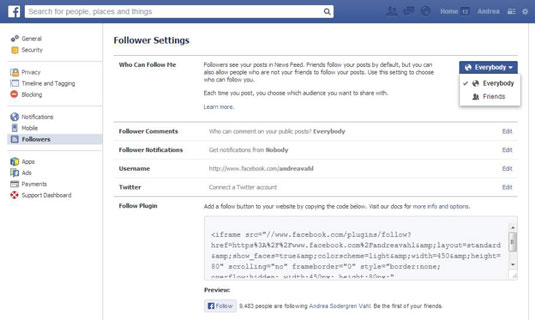 When you select Everybody next to Who Can Follow Me to turn on your Follow button, you see a new dialog box with the following settings to adjust. After you adjust any of these settings, they're automatically saved:
Follower Comments: Who can comment on your public updates? The drop-down menu lists Everybody, Friends of Friends, and Friends. Think about your choice. If you create Public posts, you want your Followers to be able to comment on them, so choose Everybody.

Follower Notifications: Notifications tell you when new people Follow you, like one of your posts, and so on. You can decide whether you want notifications from Friends of Friends, Everybody, or Nobody. You can choose Everybody and see how things go. You can always come back and adjust these settings.

Username: If you haven't set your personal Profile username (a.k.a. vanity URL) yet, you can click the link and go through the process of creating a nice URL.

Twitter: You can connect or disconnect your Profile to your Twitter account here.

Follow Plugin: You can add a Follow button to your website to encourage more followers. This button allows people to Follow you on Facebook without leaving your website and is similar to the Like button or Like Box for Facebook Pages. All you need to do is copy the code provided and add it to your website.
To adjust these settings at a later date, just come back to this Page in your profile's Settings page. Also notice that you can see how your Timeline appears to your Followers by clicking the link at the bottom of this page: Want to Know What Followers Can See? View Your Public Timeline.
Visit this link from time to time to make sure you haven't shared anything publicly that you didn't want to. You can adjust the settings on any post or picture after you've posted them.
Another interesting fact: After you turn on your Follow button, if someone asks to be your Friend, and you ignore her, that person automatically becomes a follower and can see your public posts.