How to Create Your Business's Facebook Page
How to Create Your Business's Facebook Page
Facebook makes setting up a Business Page easy. (Keep in mind, you need to create a personal profile first; see the appendix for details.) Just log in to your account, and with some basic information about your company, you can get started.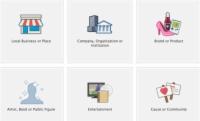 1
Go to
Facebook's Page Creation Page
. Select the business type that best describes your business.
You can choose from six types of Facebook Pages:
Local Business or Place: These Pages are meant for businesses that would benefit from a strong local market presence: a museum, a pizza shop, or a movie theatre.
Company, Organization, or Institution: These Pages are meant for larger national businesses, which could include nonprofit organizations or large companies. Apple or Dell are good business-to-consumer examples; Avaya and Oracle are good business-to-business examples.
Brand or Product: These pages are meant for large brands. Think Starbucks and Coca-Cola.
Artist, Band, or Public Figure: These Pages are good for politicians, artists, TV celebrities, or a musical group: for example, Jimmy Kimmel, Barack Obama, or Lady Gaga.
Entertainment: These Pages are meant for brands and companies in the entertainment industry, like Broadway shows and cable TV networks.
Cause or Community: Community Pages are intended for fans who like a topic or experience, and are owned collectively by the community connected to it. Check out an example of a Community Page. Because you want to have administrative control over your business presence on Facebook, using a Community Page as a primary way to market on Facebook is not recommended.
2

Type your business name in the Company Name field to secure your organization's name on Facebook.

When you name your Page, it is much more difficult to change after you've acquired 100 fans (after you have 100 fans, you can request a name change by clicking on a "request change" link in the basic information tab, but it's up to Facebook whether they grant the request), so choose a name that you want your fans and customers to associate with your business.

The name of your Page should communicate exactly what kind of business you are. If it doesn't, add a word or two to convey this.

If you select a Local Business or Place, you also need to enter your address and phone number.

3

Select a category for your Page.

Depending on the Page type you select, you have a variety of choices regarding your Page category. Choose a category based on how your customers think about your business rather than how you think about your business. For example, a Museum of Science has chosen "Museum" as its category even though its executive director might think of the museum as a nonprofit, which is another category choice.

Although you can always change the category of your Facebook Page, try to get this right from the start. You can also request to change the name of your Page, but there's certainly no guarantee that Facebook will approve the request.
4

Select the check box below the name of the Page to accept the Facebook terms.

Selecting this check box certifies that you are the official representative of the business, organization, entity, or person that's the subject of the Facebook Page and that you have the necessary rights to create and maintain the Page. Make sure you read the terms for Pages.
5

Click the Get Started button.

Congratulations! You just created your Facebook Page.