How to Create Promoted Posts to Market on Facebook
How to Create Promoted Posts to Market on Facebook
A promoted post is a type of Facebook ad that creates exposure for specific posts on your Facebook Page. The types of posts that can be promoted include status updates, photos, videos, events and milestones.
Promoted posts are labeled "Sponsored" and show up only in the News Feeds of people who like your Page (and those people's friends). Promoted posts will not be shown in the right column of Facebook. Promoted posts also show up in mobile News Feeds, which is huge considering the fact that over 700 million users access Facebook from their mobile device.
Unlike other Facebook ads, promoted posts can easily be created directly from your Page timeline. To create a Promoted Post, follow these steps: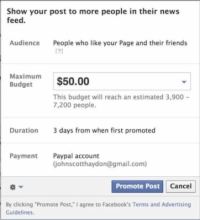 1

Click on the Promote button found at the bottom-right of any post on your timeline.

A popup window appears.
2

From this popup window, set your desired budget for the promotion (drop-down options will vary depending on Page size).

The budget you set is a lifetime budget and not a daily budget.
3

Click Promote Post.

If you haven't purchased a Facebook ad before, you are then prompted to enter your credit card information, which will be saved as a payment option in your Facebook ads account.

Alternatively, you can also promote a post from the Page Posts report in Facebook Insights. To do this, follow these steps:
4

Go to your Page Insights, which by default takes you to the Overview tab.

Scroll down to the Page Posts report and find the post you'd like to promote.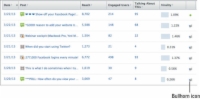 5

In the column on the right, click on the bullhorn icon.

A new browser window opens for the specific post. You can promote this post by following the same steps you follow when promoting from your timeline.