How to Create Google Social Ads for Your Company
How to Create Google Social Ads for Your Company
To create a Google social ad for your company, start by creating a simple Google AdWords ad. Many services and companies are available online to help with this process, but for now, go to Google AdWords to manage and create your social ads is a good way to get started. You need a Google account, and you should have previously logged in to Google AdWords to do this:
A screen appears, showing any ads you've previously created; you can go in and track stats for each campaign.
2

Click the New Campaign button to create your new ad campaign.

A form appears for creating your campaign. Go through it and learn what each option does for you.

Click the question marks if you want to learn more about anything on the page.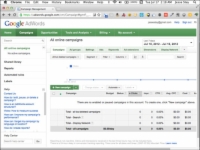 3

Fill out the form.

Take some time to get to know what you can do here. Fill out the form in the way that works for you — and test your results.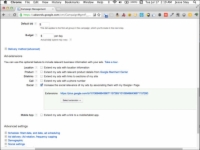 4

Check the box next to Increase the Social Relevance of my Ads by Associating Them with My Google+ Page.

Doing so gives you the option to specify the Google+ Page you want to associate with.

If you've previously associated a Google+ Page with your ads, you're shown a drop-down list of previously used Google+ Pages. Select the one you'd like to associate with this campaign, or select Create New Extension instead.
5

Go to your Google+ Page; copy the URL for the page.

To find your Google+ Page, you can either search for it, or click your name on plus.google.com and select your Google+ Page from the drop-down list. Then copy the URL it brings you to — this will be the URL of the page's profile (the Posts or Home URL should also work). Paste the URL to your Google+ Page into the text field, right where it prompts you to put it.
6

Click Save and Continue.

This will take you to a page where you can start configuring what your ad looks like.
7

On the following page, fill out the form to customize your ad's appearance; select keywords if appropriate; and then click Save Ad Group.

Fill out this form to the best of your ability, and make sure you Like what's there. Let Google recommend a few keywords, or choose your own, one per line.

After you click Save Ad Group, your ad is submitted for approval and will start showing up on Google search results or on the websites you configured.

This procedure may change over time.