How to Create an Offer for Your Facebook Business Page
How to Create an Offer for Your Facebook Business Page
One way Facebook offers you a chance to market with your Business Page is through Facebook Offers. You can create an offer from your Page Publisher by following these simple steps: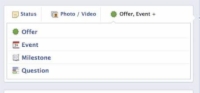 1

Click the Offer, Event + button to the right of "Photo / Video" and then click Offer.

Note, however, that if you have fewer than 100 fans, you won't see the Offers feature.

2

Select the type of Offer.

Choose from In Store Only, In Store & Online, or Online Only. If you select In Store & Online or Online Only, type the web address where people can redeem the offer and a redemption code (optional). Click Next.
3

Write a headline for your offer.

Make the value of your offer simple to understand. For example, Buy a deluxe facial and get a free manicure.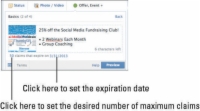 4

Upload a photo for your offer that stands out in thumbnail size.

Limit the number of claims by clicking the number of claims and selecting your desired limit from the drop-down menu or entering a specific number.
5

Set an expiration date by clicking today's date and then clicking a different day in the future.

Stay with a week or less for your offer because after a week you reach a point of diminished returns.
6

Add any necessary terms and conditions of your offer by clicking Terms. For offers being redeemed in your store, you can add a bar code that sales staff can scan (optional).

To add a bar code, enter the 12-digit UPC-A or 13-digit EAN code for your offer.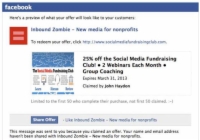 7

Click Preview to review what your offer will look like.

Facebook will also send you a preview of the e-mail people will receive after they claim your offer. If you've added a bar code in your offer, test the bar code by scanning it with your in-store scanner.
8

Click the Back button in your browser to make any changes to your offer. When you're happy with the preview, click Set Budget.

Choose the amount you want to spend to promote your offer. Notice that the estimated reach increases with bigger budgets.
9

Click Share.

You have created your first offer. Good luck!