How to Create an Engagement Ad on Facebook
How to Create an Engagement Ad on Facebook
A successful way to advertise your business is to create an Engagement ad on Facebook. When you create an Engagement ad, the title and image are automatically filled in for you. Facebook uses the title and picture from your fan Page, app, or event. Cool, huh?
An advantage of an Engagement ad is that people can join, like, or RSVP right from the ad itself, without even going to your Page. In addition, Engagement ads show the Friends who have already liked your fan Page, are attending your event, or are using your app, depending on what you're advertising.
When people see that their Friends like something, they're much more likely to become fans themselves. Social proof — the idea that if your Friends like it, you might like it, too — is a powerful tool.
Another nice thing about Engagement ads is that they give users the ability to like your Page (the desired outcome, of course) with one click, and the more convenient you make things for the user, the better. You don't want users to have to click your ad and have to be transported to the Facebook Page; they might forget to like it! That would mean that you'd get charged for a click without getting the fan.
To begin creating an Engagement ad, log in to Facebook as your personal Profile, and follow these steps:
1

Click the down arrow in the upper-right corner.

A drop-down menu will appear.
2

From the drop-down menu, select Create an Ad.

You will see different options appear.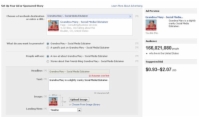 3

Select from the list what you want to advertise.

If you don't see the internal Facebook site that you want to advertise, enter the URL of the Page, Event, or App in the URL field. Facebook connects the ad to the right place.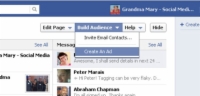 4

In the next section, select the radio button for your objective.

If you're advertising your Page, for example, you have the options of Get More Page Likes, Promote Page Posts, or See Advanced Options (which allow for advance pricing options).

If you're advertising an App, you have the options of Get New Users, Increase App Engagement, or See Advanced Options.

If you're advertising an Event, you have the options of Increase Attendance or See Advanced Options.

Promote Page Posts is for creating a Sponsored Page Post story.

You can easily start an ad for your Page from your business Page by choosing Create an Ad from the Build Audience drop-down menu in your Admin panel. If you select Create an Ad from your Business Page and you are logged into Facebook as your Page, you're reminded that you're using Facebook as your Page and you need to switch to your personal Profile.

If you're logged in as your personal Profile, you're taken straight to the Ads area.