How to Create a Facebook App
How to Create a Facebook App
The first step to building your own app is to set up your app inside Facebook's app builder. You take this step to become a developer on Facebook and to have a place to find all your apps.
Follow these steps to set up your first app:

An authorization screen appears. You need to allow the app to access basic information on your timeline to use it. This is all that's required to have developer capabilities with Facebook.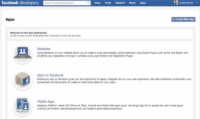 2

Click Allow.

After you complete the authentication, you see the apps page. The first time you go to the apps page, you see a blank screen and the Create New App button.
4

In the App Name text box, type what you want the app to be called. In the App Namespace text box, type what you want to appear at the end of the app's URL.

You can name your app whatever you want, but note that the namespace can't have uppercase letters or symbols. For example, if you type fordummies in the App Namespace text box, your app's URL will be http://apps.facebook.com/fordummies.

The App Namespace field must be filled in with a name that hasn't been taken by another app. If the name you chose is taken, Facebook will immediately indicate that it isn't available. (If you're having trouble finding a name that hasn't already been taken, you can always determine the namespace later.)

Leave the other fields blank, and your app will be fine.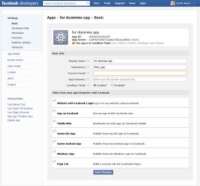 5

Click Continue.

If Facebook needs any more verifying info here, they will ask for it. For instance, you may have to enter a series of letters and numbers to prove that you're human (called a CAPTCHA). For most people, however, your app is created.

You just created your core app! You're now on the configuration screen of your brand-new app.