How to Create a Facebook Ad for Your Business
How to Create a Facebook Ad for Your Business
The process for creating Facebook ads is very easy. This can also be a very powerful marketing technique if you carefully consider your demographics and how you can reach your fans on Facebook. Just follow these basic steps:
1

Go to Facebook's Ad Page. Click the green Create an Ad button on the upper right of your screen.

The Advertise on Facebook page appears, displaying the steps required to create an ad and/or Sponsored Story.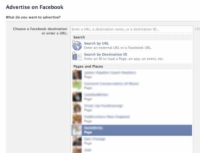 2

Specify a destination for the ad in the Destination field.

You can specify either an external URL or your Facebook Page, Facebook Event, or Facebook App. In the Destination field, enter the URL of your website, or begin typing the name of your Page, event, or app.
3

Select your ad objective.

If you select a Page, app, or event for the destination, Facebook asks "What would you like to do?"
4

Write a Headline. Next, write the body and choose an image.

Facebook uses the first 25 characters of your Page for the headline.

Enter up to 90 characters of text for your ad in the Text field for the body.

You can select an image from your desktop. The ad image dimensions are 100 x 72 pixels.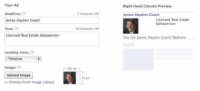 5

Select your landing view or related Page.

If you're promoting a Facebook Page, you can select a specific view as your destination. If you're selecting an external URL as your destination, you can choose to display Facebook stories about a related Page or app.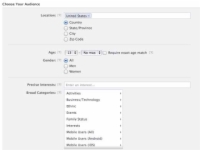 6

After you design your ad, you need to target your audience by selecting the targeting criteria.

Think of targeting in terms of an archer's bull's-eye: The closer you get to the center, the narrower the circles; the farther out you go, the wider the area.
7

In the Location field, type the location in which you want your ad to be seen.

You can choose from nearly 100 countries to target, and each ad can reach up to 25 countries. You can also drill down to the state/province or city level. For many cities, you can even specify up to 10, 25, or 50 miles surrounding the city.
8

In the Age drop-down lists, choose the age range and gender of the audience you want to see the ad.

If you know your audience's approximate age range, this is a great way to target them. You can target just men, just women, or both. By default, All is selected.

9

In the Interests section, you can choose either precise interests or broad categories.

To choose precise interests, simply type any keywords in the Precise Interests text box that you want to target specifically. To choose broad categories, select the category and subcategory you wish to target.

10

In the Connections on Facebook section, select the option that best suits your page

If you're advertising an external website URL, you have the option of selecting only Anyone or Advanced Connection Targeting.
11

Select criteria for advanced demographics and educational level of your audience.

Make your selections for Interested In and Relationship Status. In the Languages field, start typing the language you want to target.

Your options are Anyone, College Grad, In College, or In High School. This is a great tool for recruitment because you can target people with the schools and degrees you're interested in hiring.
12

Target down to the workplace.

As you start to type the workplace, you see a range of workplace possibilities.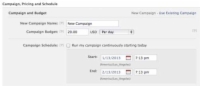 13

In the New Campaign Name text box, type the name of your campaign.

Campaign refers to a group of ads that all share the same daily budget and schedule; it can consist of many separate ads. By grouping ads under a single campaign, it's easier to manage various campaigns.
14

In the Campaign Budget text box, set your daily maximum budget.

You can also choose to set a lifetime budget and enter the amount you want to spend for the entire life of that campaign.
15

In the Campaign Schedule section, choose from two options for when the ad runs:

If you want the campaign to start today and run indefinitely, select the Run my Campaign Continuously Starting Today check box.

If you want to choose a specific date range, deselect the Run my Campaign Continuously Starting Today check box and enter the starting and the ending date and time.
16

In the Campaign Pricing section, Facebook suggests a per-click bid amount. Accept or reject the suggested bid.

If you're satisfied with this suggested per-click bid, continue.

If you prefer a different bid, click the Set a Different Bid (Advanced Mode) link.
17

Select the radio button next to the type of pricing structure you want to go with: Optimize for Impressions (CPM) or Optimize for clicks (CPC). Enter the maximum amount you're willing to pay per click or per impression.

Facebook allows you to bid based either on CPM or CPC. If you select Pay for Impressions (CPM), remember your bid represents every 1,000 impressions, or ad views.

The minimum allowable bid is 2 cents for CPM and 1 cent for CPC, although Facebook often rejects bids above this threshold that it deems too low. Click the Review Ad button.

The Review Ad page appears and recaps your ad's creative elements, targeting, type of bid (CPC or CPM), bid price, daily budget, and duration of ad flight.
18

After you review your ad, click the Place Order button.

On the following Page, this message from Facebook appears: "Your ad was created successfully. It will start running after it is approved, which can take up to 24 hours. Please check back once your ad is approved to monitor its performance. You can also edit your ad creative, or change targeting and delivery information below at any time."

After your ad is approved, you receive an e-mail from Facebook notifying you of the approval with a link to the Ads Manager.