How to Add Livestream to a Tab on Your Facebook Business Page
How to Add Livestream to a Tab on Your Facebook Business Page
Once you have installed Livestream and created an account, you can add it as a tab to your Facebook business Page. Here's how you get started with your new Livestream application: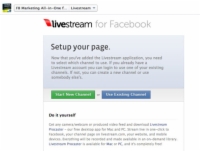 1

Click your new Livestream Page tab from your Facebook Page.

You see an option to Start New Channel or Use Existing Channel.

If you are new to Livestream, you will choose Start New Channel. You are then prompted to log in to your Livestream account.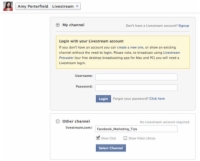 2

Log in.

Now you see Channel Name and a drop-down menu. Choose the Start New Channel option in the drop-down.
3

You are prompted to choose a name for your new channel. Type in a channel name and click Launch Channel.

You see more options to set up your channel, including the channel description. A channel is just like a TV channel that you select from Livestream. You get to choose what you intend to broadcast. It can be your own channel or a channel that already exists on Livestream.

After you select your channel option, you see the Channel Settings page.
4

Select the channel you want to show from the drop-down menu list and add the channel description.

Your audience will see this description, so make it good!
5

Click Save Changes.

Your Livestream Page tab is created.

Congratulations! You're done installing the application, so all you need to do now is follow the steps to broadcast your video.

To broadcast your live video on your Facebook Page, try the Livestream Procaster. You can download the Procaster by clicking the Options button on your Livestream Facebook Page tab and then choosing Broadcast Now. You can broadcast video directly from a camera or from a webcam. You can also broadcast what you're showing on your computer screen, such as a Microsoft Powerpoint presentation.