How to Add Admins to Your Facebook Marketing Page
How to Add Admins to Your Facebook Marketing Page
To add an admin to your Facebook Page, you have to be an admin manager of your Page. Only admin managers can add other admins. Here's how you do it:
1

Log in to Facebook.

Go to your Facebook Page.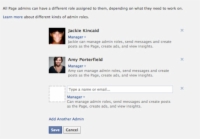 2

From the Edit Page drop-down menu (located at the top of your Facebook Page in the Admin Panel), choose Admin Roles.

You're taken to your admin page.

If you already have multiple admins, your current admins' images and names pop up. You also see a field where you can enter the name or e-mail address of a person you want to add as an admin.
3

Type the name or e-mail address of each person you want to add as an admin.

As you type the name, a drop-down menu appears, with possible choices of people you may be searching for.
4

Click the correct name and his or her profile image in the drop-down menu, and the full name populates instantly.

If you want to add more admins to your Page, they must be Friends of your Profile, or they must have liked your Page. If you want to add someone else, you can add him as an admin by typing the e-mail address he uses to log in to Facebook. That person then receives an e-mail from Facebook, saying that he is an admin of your Page.
5

(Optional) Add more admins by clicking the Add Another Admin link.

The Add Another Admin link is located above the Save button.

6

If necessary, change the roles of your existing admins by clicking the drop-down menu below a name and choosing a new role from the menu.

It is not unusual to reallocate roles when adding new admins, so Facebook makes it easy to do in the same set of screens.
7

Click Save.

You will be prompted to add your Facebook password to secure the changes.