Create Your Venue on Facebook Pages
Create Your Venue on Facebook Pages
If you are venturing into location-based marketing, but your business doesn't have a page set up yet on your location-based service (LBS) of choice, you can set it up yourself. This process varies from service to service and must be done on each service individually.
Don't assume that your business doesn't have a page just because you didn't put it there. Always search for your business first. You will be surprised at how often the LBS or a customer has already created a page for a venue.
Facebook Pages requires use of a smartphone or tablet to create a venue — or place, to use Facebook's terminology. To set up your venue on Facebook Places, either open the Facebook app or access the mobile touch site on your smartphone or tablet by going to. Follow these steps to set up your venue on Facebook Places:
1

Select Places from the menu.

Find Places in the drop-down on the mobile touch site or the icon on Facebook app.
2

Click Check In even if your goal is to set up a venue.

While this seems counterintuitive, it's the only way to do this to date.
3

Search for your company's name in the search box.

If your company's name isn't found, the Add button will appear.
4

Click the Add button.

You're asked to provide a Venue name and a Description (optional).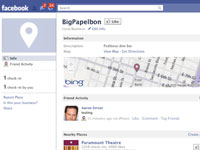 5

Click the Add button again.

Once you have clicked the Add button — claiming your venue — you'll be able to edit your venue on the Facebook Places website.