Claim Your Venue on Yelp
One of the most important steps in setting up your location-based marketing campaign is claiming your place, which means going through the LBS process to own your business's place page in their system. This gives you privileges like access to the dashboard and the ability to create specials. This process varies from service to service and must be done on each service individually.
When you claim your business on Yelp, you gain a lot of administrative capabilities. You can edit business info without waiting for Yelp's approval, view page analytics, message customers, run advertisements, and more.
Yelp requires you to use a business account, not a personal account. Set up an account for the individual(s) who will be claiming, monitoring, and/or marketing using LBSs.
Follow these steps to claim your page on Yelp:
1

Go to Yelp and Search for your business name.

You may need to specify the city and state where your business is located.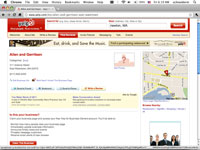 2

Click the title of your venue in the search results.

Your business page appears. If it's unclaimed, you see a red Claim This Business button at the bottom of the page.
3

Click the Claim This Business button.

The next page shows a set of instructions. Yelp is different from many other LBS networks because it doesn't link managerial claims to a personal account.
4

Click the Go to Step 1 button.

On this page, you create a business account. If you already have a business account, click the "Log in here to add a business" link and skip to Step 7.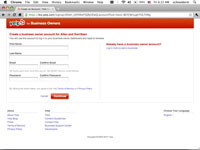 5

Fill out the form (name, e-mail address, and password) and click the Continue button.

Next you will need to verify your authority to administer the page via phone confirmation. Take note of the verification code; you'll need it to claim.
6

Enter or correct your phone number, and then click the Call Me Now button.

Remember to add an extension if you' use an automated voice system.
7

Answer the phone call and enter the verification code appearing on your screen.

Your claim is now complete.

Users ultimately have control over the places that are created. Keep an eye out for places within your place (men's room, the bar, the video games department). You may have some active folks checking in here that you will want to embrace.