Claim Your Venue on Gowalla
Claim Your Venue on Gowalla
One of the most important steps in setting up your location-based marketing campaign is claiming your place, which means going through the LBS process to own your business's place page in their system. This gives you privileges like access to the dashboard and the ability to create specials. This process varies from service to service and must be done on each service individually.
When you claim your business on Gowalla, you can edit your business's profile details, add a check-in message, or even feature your venue with a custom stamp. To claim your page, follow these steps:
1
Go to
Gowalla
and search for your business.
Click your business's link in the search results.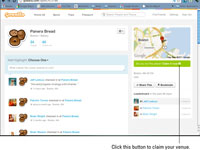 2

Click the button that says, "Do you run this place? Claim it now."

The button is underneath the map on the right side of your business page.
3

Fill in the claiming form.

You need your business's address, phone number, and other business links from Yelp or Google Places.
4

Click the Submit button.

You will immediately receive a phone call — a recording of a pleasant Australian man. He will give you the confirmation code.
5

Note the confirmation code and enter it in the box.

You may have to wait a few days before the processing is complete, but after that your user account will have manager control over your venue.

After your request has been approved, you receive an e-mail notification to the e-mail address you used to sign up for Gowalla.