Claim Your Venue on Facebook Places
Claim Your Venue on Facebook Places
One of the most important steps in setting up your location-based marketing campaign is claiming your place, which means going through the LBS process to own your business's place page in their system. This gives you privileges like access to the dashboard and the ability to create specials. This process varies from service to service and must be done on each service individually.
Claiming a business on Facebook Places allows you to add check-in deals for your visitors as well as merge your Facebook Places Page with your Facebook Fan Page. Follow these steps:
Yes, go to Facebook, not Facebook Pages.
2

In the search box at the top of the page, search for your business's name.

Choose your venue from the Facebook Place Pages results.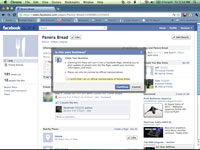 3

On the venue page, click the Is This Your Business link at the bottom of the left column.

A window appears asking if you have the authority to claim this business page. Facebook asks if this is indeed your business. That begins the process.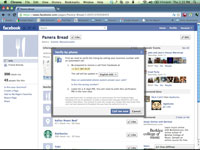 4

Select the "I certify I am an official representative of your business" option.

A new pop-up window appears where you must confirm your phone number with Facebook.
5

Ensure that the phone number listed on the venue is correct.

If you can be reached at an extension, enter the extension line into the domain in this window.
6

Click the Call Me Now button.

Enter the code given to you over the phone in the domain and click the Verify button.

You get an e-mail notification that your request to claim your venue in Facebook Places has been approved.