How to Identify Gamification Providers
How to Identify Gamification Providers
If you've opted to go the provider route to build your gamification site, the next obvious question is, what provider should you choose? Although gamification is a relatively new industry, there are numerous organizations to choose from.
This is by no means an exhaustive list of gamification providers. It's a growing industry, and new players emerge (and old ones fold) at a breathtaking pace.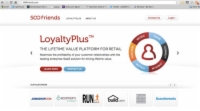 1

500Friends

500Friends butters its bread by, as co-founder and CEO Justin Yoshimura says, "Helping to level the playing field and give retailers, regardless of size, the ability to deploy rich and responsive programs that extend their relationships beyond the purchase and turn customers into advocates."

How? By enabling retailers to create and deploy a compelling customer gamified experience that recognizes and rewards gameplay actions directly tied to their marketing objectives. The results are twofold: higher search-engine rankings and acquisition of new customers by word-of-mouth. 500Friends now boasts more than 40 top retailers on its platform, including Internet Retailer Top 100 companies such as Shoebuy, US Autoparts, and Build.com.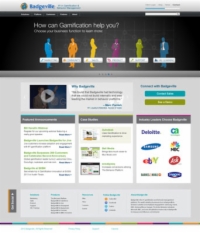 2

Badegeville

An industry leader, Badgeville offers services for gamification, reputation management, and social mechanics, drawing on techniques from social gaming, traditional loyalty programs, and social networking to influence users to perform high-value behavior. Cloud connectors and ISV programs allow for easy integration of the Badgeville system into dozens of the world's top enterprise and social applications.

Badgeville has laid claim to more than 200 customers spanning virtually every industry, including Oracle, EMC, Samsung, NBC, Deloitte, Rogers Communications, Bell Media, CA Technologies, The Active Network, Appirio, Recyclebank, eBay, and many more. Badgeville boasts the most experience in the industry and, with $40 million raised in venture capital, is the most funded company in gamification.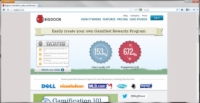 3

Big Door

Founded in 2009, Seattle-based Big Door aims to help Web publishers, marketers, and developers grow and engage their communities. Using its gamified loyalty platform, customers — who range from small, independent bloggers to Dell, Major League Baseball, and Nickelodeon — can quickly build game mechanics into their online experiences and applications. Innovative user incentives and participation in quests — achieve deeper brand affinity.
4

Bunchball

Founded in 2005, Bunchball boasts a healthy roster of customers, including Warner Bros., Comcast, NBC Universal, Stella & Dot, Chiquita, Playboy, Bravo, The USA Network, and LiveOps use Bunchball's Nitro gamification platform. Nitro includes powerful analytics to create customized, actionable, and scalable user experiences for consumers, employees, and partners.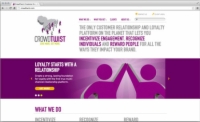 5

CrowdTwist

The mission of CrowdTwist is to enable organizations to reward points to users for their engagement, social influence, and spending. CrowdTwist focuses on issuing monetary rewards rather than virtual ones. That is, rather than being badge-centric, they issue gameplay rewards like one-of-a-kind experiences, branded merchandise, exclusive items, partner-sponsored rewards, deals, and discounts. Advanced analytics and management and reporting tools are also available.
6

Gigya

Gigya offers a platform for making Web sites more social in a variety of ways, including game mechanics. You can use various Gigya modules independently or as a seamlessly integrated suite. Gigya, which also offers a social analytics dashboard, serves a wide range of customers, including ABC, Pepsi, and Verizon.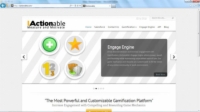 7

IActionable

IActionable proudly touts its Engage Engine, viewed as one of the most flexible in the industry. Using this scalable system, you can create gameplay reward systems — complete with points, achievements, levels, leaderboards, and notifications — that are easy to learn but difficult to master. In addition, IActionable's fully customizable analytics tools enable you to track the metrics that matter to you.
8

Seriosity

At Seriosity, co-founders Byron Reeves and Leighton Read are Big Names in gamification — so much so that they wrote a book about it. Their bag: Offering "consulting services to help enterprises develop a game strategy optimized for their challenges and workforce."Seriosity also offers a set of software products to help clients gamify their users' experiences.