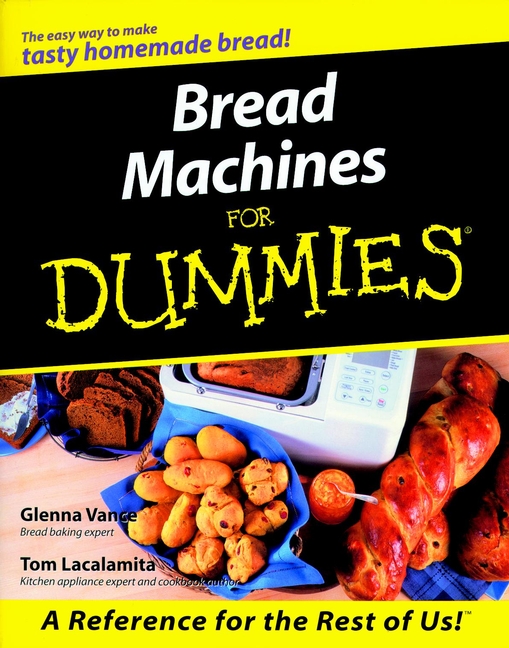 Bread Machines For Dummies
By: Glenna Vance and Tom Lacalamita Published: 11-10-2000
There's nothing like the smell and taste of fresh homemade bread. But who has the time to make it anymore? You do—with a little help from your automatic bread machine. All bread machines can make good bread; they just need a little help from you to turn out a good loaf. With a little practice and a lot of fun, you too can make freshly baked bread in your kitchen with the touch of a button.
Bread Machines For Dummies is for anyone who has ever been frustrated by a bread machine and wants to know if it's really possible to turn out great bread with a minimum of time and effort (it is!). This fun and easy guide shares simple techniques and more than 85 tested, foolproof recipes for making aromatic and flavorful breads—either for your bread machine or from dough that you shape yourself and bake in the oven. You'll see how to make:
Soft white bread
Cracked wheat bread
Basic danish dough
Babka and C hallah
Bread bowls
Bread sticks, pizza, and focaccia
And so much more!
This handy resource guide provides everything you "knead" to know about making bread, including the best ingredients to use, how to work with dough, and how to get the best results out of your machine. Along with plenty of cooking, measuring, and shopping tips, you get expert advice on how to:
Shape simple doughs into beautiful breads
Mix flours and liquids for perfect bread texture
Adapt machine recipes for two loaf sizes
Understand the different wheat flours
Fit bread into a gluten-free diet
Avoid moisture mistakes
Make breads with alternative ingredients such as rice flour, potato starch, and tapioca flour
Featuring a cheat sheet with standard measuring equivalents and temperature conversions, tips for troubleshooting your machine, and delicious recipes for such tasty delights as Cheddar Cheese Corn Bread, Pecan Sticky Rolls, Cranberry Nut Bread, and Banana Lemon Loaf,
Bread Machines For Dummies
reveals the best ways to bake, store, and enjoy your bread!
Articles From

Bread Machines For Dummies
Food Prep Tools
Go for Gluten-Free Cranberry Nut Bread
Article / Updated 03-26-2016
You will love the texture and the flavor of this delicious bread that you make in your bread machine. Take it with pride to any gathering, whether it's a meeting of people who can't eat gluten or a holiday party where you'll encounter all kinds of potluck contributions. Cranberry Nut Bread Preparation time: 20 minutes Approximate cycle time: 1 hour and 20 minutes Yield: 12 to 16 slices Wet Ingredients 2 large eggs 1/2 cup orange juice 3 tablespoons vegetable oil Dry ingredients 2/3 cup bean flour 2/3 cup rice flour 1/2 cup tapioca flour 1/4 cup arrowroot powder 1/2 cup sugar 1 teaspoon salt 1 teaspoon baking powder 1/2 teaspoon baking soda Grated rind of 1 orange 1 cup dried cranberries 1/2 cup coarsely chopped pecans 1. Be sure that all the ingredients are at room temperature. 2. Combine the wet ingredients and pour them into the bread-machine baking pan. 3. Measure the dry ingredients, including the yeast, and mix well to blend. Place them in the pan. Place the pan in the bread machine. Select the Cake or Quick Bread cycle and press Start. Don't confuse the Quick Bread cycle with another short cycle, like the Rapid cycle. The Quick bread cycle has no rising time. Quick breads use baking powder and/or baking soda, which leavens in a chemical reaction to moisture and heat that occurs once you start baking the bread. When the bread is completely baked, take the pan out of the machine and place the pan on a wire rack. Do not take the bread out until ten minutes have passed. This allows the structure of the bread to firm up so that it won't fall apart when you remove the bread from the pan. Per serving: Calories 210; Protein 4g; Carbohydrates 32g; Dietary fiber 2g; Total fat 7g; Saturated fat 0.5g; Cholesterol 35mg; Sodium 100mg. If you know that your body simply can't tolerate wheat-based bread, you'll appreciate your bread machine even more than you used to. Thanks to the bread machine, you can have breads made with flours other than wheat, oats, barley, and rye. Of course, these gluten-free breads feel and taste different than traditional, wheat-flour breads, but they are quite good and they're good for you.
View Article