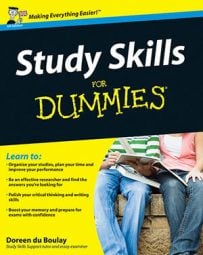 Study Skills For Dummies
By: Doreen du Boulay Published: 04-17-2009
Students need to learn to manage their time, organise their studies, understand, learn, and convey a lot of information and they need to learn to do it quickly. Whether youre fresh out of school, or a mature student returning to education, you now dont need to feel alone! With Study Skills For Dummies, you'll be given the know-how and confidence to achieve consistent results every time and a lack of preparation will become a thing of the past.
Articles From

Study Skills For Dummies
Sorry, there are no articles to show here.