Giving people a chance to fly without all the time, money, and risk that goes into actual piloting makes flight-simulator video games such a fun and rewarding experience. Microsoft Flight Simulator is currently the best of its kind for casual players and hardcore enthusiasts alike.

Currently, you can purchase three different versions of Flight Simulator: the Standard, Deluxe, and Premium Deluxe editions. Differences among editions include the number and type of available airports and aircraft, and of course, the price.

Even the Standard version of Flight Simulator includes around 37,000 airports! Other good news is that the game is largely the same across platforms (PC and Xbox series), so you won't compromise the experience when it comes to choosing the platform you want to play on.
What platforms can you use to play Microsoft Flight Simulator?
Flight Simulator originally debuted as a PC-only title when it first released in August 2020. It also received a special virtual-reality version in December 2020, the first time any flight simulator had done so. Though it remained a PC exclusive title for some time, on July 27, 2021, Flight Simulator debuted on Xbox Series X and Xbox Series S.

The game likely won't be available on PlayStation 4, PlayStation 5, or Nintendo Switch in the near future, given that it's a Microsoft-owned property. So, if you're interested in playing, you need to have a PC or Xbox series platform. Here are a couple of thoughts for your platform choice:
On an Xbox: You may find that picking up an Xbox console (if you don't already have one) makes playing the game simpler. Flight Simulator is highly playable on Xbox consoles and may be more accessible for those who aren't comfortable configuring PC games and software.
On a PC: Flight Simulator can be quite demanding on computers that don't have pricey gaming equipment. On the other hand, you can expect awesome graphics if you play on a gaming PC that has the latest and greatest graphic card and processor.
Which version should you buy?
Each version of Flight Simulator differs in scope of content, such as airplanes and airports. The versions (depicted below) are priced in tiers, and depending on the experience you want from the game, you can expect more or less content based on how much you're willing to pay. Hey, becoming a pilot isn't cheap!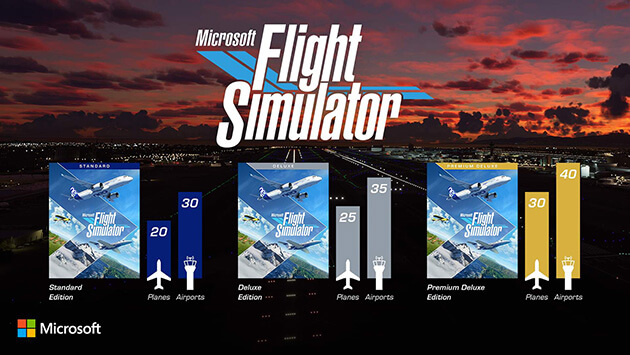 ©Microsoft
Flight Simulator versions
Here's a quick reference guide to what each version contains:
Standard Edition: The base version of the game. It comes with 20 different planes and 30 enhanced airports, and it retails for $59.99 (USD, 2023).
Deluxe Edition: This version of the game comes with everything in the Standard Edition, plus five additional enhanced airports and five additional airplanes. It retails for $89.99 (USD, 2023). The enhanced airports included are:

Amsterdam Airport Schiphol (Netherlands)
Cairo International Airport (Egypt)
Cape Town International Airport (South Africa)
O'Hare International Airport (USA)
Adolfo Suarez Madrid-Barajas Airport (Spain)
The additional airplanes included are:

Diamond Aircraft DA40-TDI
Diamond Aircraft DV20
Textron Aviation Inc. Beechcraft Baron G58
Textron Aviation Inc. Cessna 152 Aerobat
Textron Aviation Inc. Cessna 172 Skyhawk

Premium Deluxe Edition: This version of the game comes with everything that the Deluxe Edition includes, as well as five more enhanced airports and another five airplanes. It retails for $119.99 (USD, 2023). The enhanced airports included are:

Denver International Airport (USA)
Dubai International Airport (UAE)
Frankfurt Airport (Germany)
Heathrow Airport (UK)
San Francisco International Airport (USA)

The additional planes included are:

Boeing Company 787-10 Dreamliner
Cirrus Aircraft SR22
Pipistrel Virus SW 121
Textron Aviation Inc. Cessna Citation Longitude
Zlin Aviation Shock Ultra
If you decide that you want to upgrade to the Deluxe or Premium Deluxe editions later on, you just have to pay the difference on the platform of your choice. You can download the additional content you were missing to the installation you already have. No pressure!
Wait, what are enhanced airports?
Don't confuse the small number of enhanced airports in the different versions of the game with the total number of airports that you can fly out of (around 37,000). More enhanced airports come with the Deluxe and Premium Deluxe versions, which means you get adapted constructions of airports (for example, Chicago O'Hare) that are more true-to-life than what they'd normally be in-game.

Game designers handcraft an enhanced airport from the ground up to look exactly like the locations in question; the standard, procedurally generated airports aren't nearly as detailed.

So, if you have a soft spot in your heart for the San Francisco International Airport, you might want to pick up the version of the game that includes its enhanced version so that you can see it just like it looks in your mind's eye.

The enhanced airports may end up making it a much more exciting game to jump into — and you want to get the most out of your money, of course!
What do you need to get started?
Depending on which version of Flight Simulator you plan on playing, the answer to what you need varies. For the most part, whether you're playing on PC, Xbox Series X, or Xbox Series S, you need only a copy of the game, your platform of choice, and some type of input.

Your input can be a mouse and keyboard, game controller (I recommend an Xbox controller if you have one), or flight stick. Obviously, you can find a wide variety of all these things. But if you want to use a controller, you can simply use the Xbox gamepad that comes with your Xbox Series X or Xbox Series S by default.

Otherwise, you need your sense of adventure and a little patience. Rome wasn't built in a day. You can't earn your fictional pilot's license in a day, either. You have a lot to learn, but don't get discouraged.

As with all things, practice makes perfect, and the more time you spend learning to fly, the more you retain. The more you retain, the better you perform. The better you perform, the more you want to fly. And then, before you know it, you might want to try your luck behind the controls of a real plane! You might want to; not me. I'm still a little too terrified. Heights are not my thing.
About This Article
This article is from the book:
This article can be found in the category: