If you don't like any color schemes that come with PowerPoint 2013's built-in themes, you can create your own color scheme. Begin by selecting a color scheme that's close to the one you want to use.
Be warned that after you deviate from the preselected color scheme combinations, you'd better have some color sense. If you can't tell chartreuse from lime, you should leave this stuff to the pros.
Click the Theme Colors button and then choose Create New Theme Colors.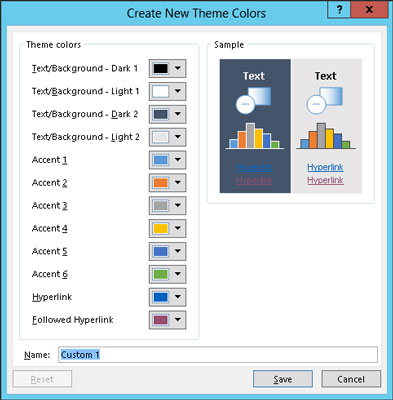 The Create New Theme Colors dialog box appears.
Click the button for the color you want to change.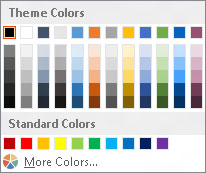 For example, to change the first accent color, click the Accent 1 button. You then see a gallery of color choices. Pick a color you like.
As you can see, a plethora of color choices are available. This gallery is similar to the shelf of paint color chips in the paint section of a hardware store.
If you don't like any of the choices, click the More Colors button.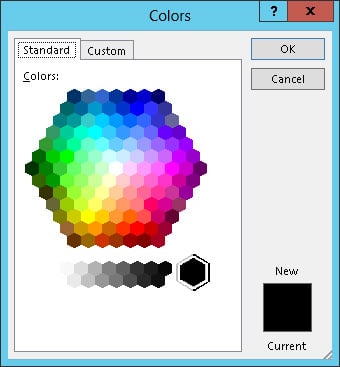 Doing this brings up the Colors dialog box. As you can see, PowerPoint displays what looks like a tie-dyed version of Chinese checkers. (Note that this dialog box comes up with the Standard tab selected. If you used the Custom tab the last time you used this dialog box, the Custom tab will be selected instead.)
Click the color that you want and then click OK. After you click OK, you're whisked back to the Create New Theme Colors dialog box.
(Optional) Repeat Steps 3 through 6 for any other colors you want to change.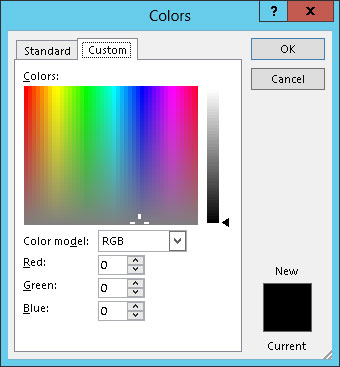 The Standard tab of the Colors dialog box shows 127 popular colors, plus white, black, and shades of gray. If you want to use a color that doesn't appear in the dialog box, click the Custom tab. This step draws forth the custom color controls. From this tab in the dialog box, you can construct any of the 16 million colors that are theoretically possible with PowerPoint.
When you click Save, the new color scheme is saved and ready to use.
About This Article
This article is from the book:
This article can be found in the category: