If you've created custom styles in another workbook in Excel 2013 that you want to use in a new workbook or in an existing one that you've opened for editing, you have to merge them into that workbook as follows:
Open the workbook file containing the custom styles that you want to copy and use.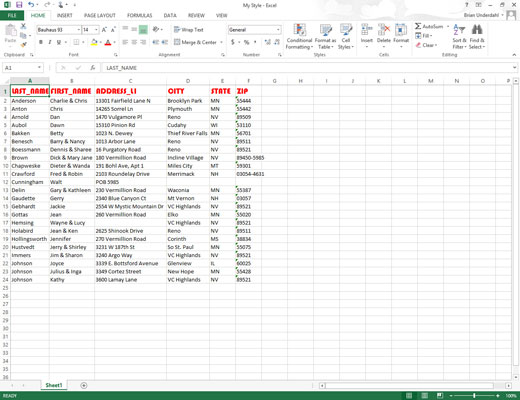 You must have the workbook containing the custom styles to merge open, along with the workbook into which these custom styles will be copied.
Click the button on the Windows taskbar for the workbook file into which the custom styles will be merged.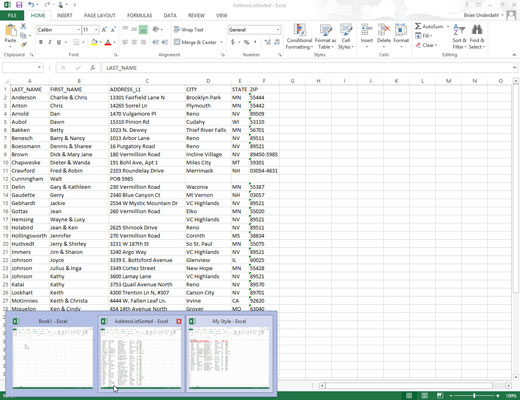 This action makes the workbook into which the custom styles are to be copied the active one.
Click the Merge Styles option at the bottom of the Cell Styles drop-down gallery (opened by clicking the Cell Styles button in the Styles group on the Ribbon's Home tab).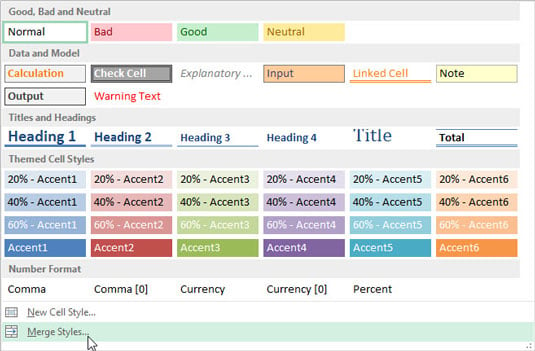 Excel opens the Merge Styles dialog box with a list box that displays the filenames of the all the workbooks that currently open in the program.
Click the name of the workbook that contains the custom styles you want merged into the active workbook and then click OK.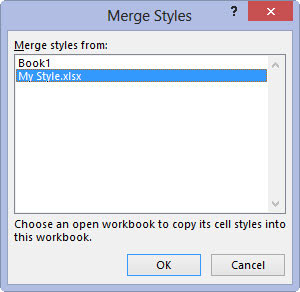 This action closes the Merge Styles dialog box. If the worksheet file that you selected contains custom styles with the same names as the custom styles defined in the active worksheet, Excel displays an alert box that asks whether you want to merge the styles that have the same names.
Click Yes to replace all styles in the active workbook with those that have the same name in the workbook file that you're copying from. Click No if you don't want the styles in the active workbook to be overwritten, in which case Excel merges the styles with unique names from the other worksheet.
After merging styles from another open workbook, you can close that workbook by clicking its button on the Windows taskbar and then clicking its Close Window. You can then begin applying the merged custom styles, which now appear in the Custom section at the top of the Cell Styles gallery, to cell selections by clicking their thumbnails in the gallery.
About This Article
This article is from the book:
This article can be found in the category: