Politicians took to Twitter as a means to connect with their constituents and, um, converse (sometimes it gets pretty shrill and hostile) with their fellow politicians quite slowly at first. Those days are long gone. Twitter is now a major outlet for politicians at all levels, including at least 80 percent of world leaders.
This isn't surprising. Twitter is a great way for politicians to communicate ideas, argue a position on issues, attempt to influence any constituency, stay on top of debates and breaking news, and give a more intimate look into their lives at a time when transparency is one of the most positive buzzwords around.
In the United States, the Democratic Party was early to jump on the bandwagon, and many users started exploring Twitter in the midst of Barack Obama's tech-savvy and successful 2008 presidential campaign. It's everywhere now, worldwide, particularly with some countries such as Indonesia where a sizeable portion of the population uses Twitter.
Recent figures show 6 percent of all global Twitter usage comes from Indonesia, and as a result, its president, S. B. Yudhoyono (@SBYudhoyono), with 5.35 million followers as of August 2014, is the third most-followed head of state behind the current American President Barack Obama (@BarackObama) and India's Prime Minister Narendra Modi (@narendramodi).
Government employees and office holders have to deal with privacy and legal issues that most other twitterers don't, so you may find politicians occasionally seem a bit on the quiet side when tweeting.
Here are some accounts and resources to get you started:
Note that some of these accounts aren't maintained by the people whose name appears on them. Barack Obama's account, for example, is a mix of Tweets from the president himself and updates posted by staff members.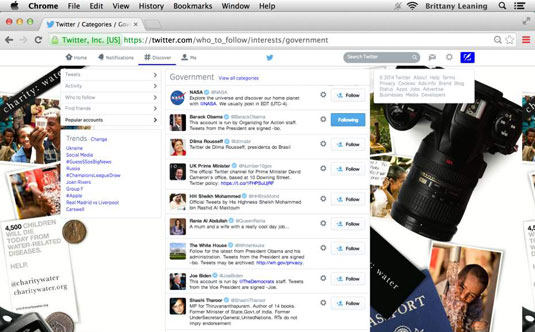 About This Article
This article is from the book:
This article can be found in the category: