Twitter is a place to take advantage of breaking industry news that could benefit your business. Author David Meerman Scott calls this newsjacking, a way to inject your ideas into a breaking news story and garner business from it. He even wrote an entire book on it, The New Rules of Marketing & PR, 4th Edition.
According to Scott, there's a certain life span a news story takes on. It works on the following timeline:
News story breaks.

Journalists scramble for additional information.

Public excitement grows.

The story reaches its peak.

The story becomes old news.

The story is shared and done.
Scott believes that businesses should newsjack between life point one and two. While journalists need to discover more facts about the news to share it, as a business your opinions can be shared without that need for objectivity.
You can take a unique angle on the piece and share it to capitalize on the increased searches that will be happening for the key terms of the announcement. Or you could use it as an opportunity to educate your audience or to simply be comical.
In fact, when the power went out into a complete blackout at the SuperDome in New Orleans during Super Bowl XLVII in 2013, various brands responded hilariously and gained tons of Twitter traffic:
But despite all these examples, it was really Oreo who won the Internet with its timely blackout Tweet. This Tweet was sent just as the lights powered down throughout the entire stadium for seemingly unknown reasons. Of course, when the live event stopped showing up, everyone flocked to Twitter to see what was going on. It was here that Oreo totally prevailed.
The image Oreo tweeted suggesting that "you can still dunk in the dark" was the most retweeted of the night. This was a huge moment for marketers all over the world, who wished they could do something equally strategic and high-impact.
Using tragic events or news to benefit your business is strongly discouraged and not the purpose of using news to grow your business. However, there are certain industry-specific and general business announcements that are appropriate for your business growth.
Fueling your efforts with advertising
More and more businesses are using Twitter's own advertising tool to surface Tweets for certain searches and hashtags during major events. This practice is used for known events, such as the VMAs, the Super Bowl, or the elections. Any paid campaigns around a natural disaster is unadvised, unless focused on truly supplying those in need with resources and help.
That said, if there's an upcoming event that could help your business, it's not unwise to begin looking at hashtags. Or even as a user, to pay attention to what campaigns are springing up around subjects you care about.
In 2014, a new record was set as over half of all Super Bowl XLVIII ads mentioned a hashtag. Hashtags are used so often that Twitter even started @AdScrimmage, a program to feature the top ads from a big football game, usually the Super Bowl.
The third annual Ad Scrimmage in 2014 was won by @JaguarUSA for their #GoodToBeBad ad where they launched a new coupe.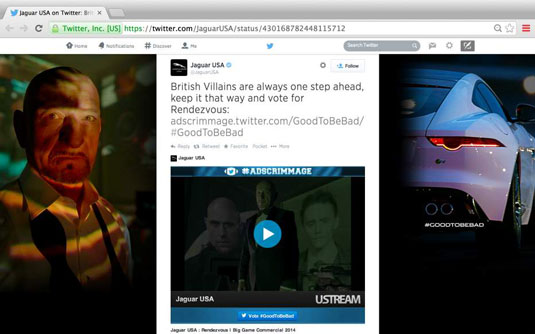 Engaging with your favorite programming
Watching television has always been enjoyable. But with the introduction of Twitter, you can go beyond indulging in your favorite TV series and actually find others commenting on the show on Twitter.
Almost every TV show — new and old — has its own dedicated hashtag. Although the TV series One Tree Hill came to life in 2003 before the tweeting phenomenon began, many fans continue to use #OTH to tweet quotes and favorite moments.
Meanwhile, America's Next Top Model (@CW_ANTM) uses Twitter to share behind-the-scenes footage and images not aired on the actual show. This gives fans a reason to engage with the show in addition to watching the actual show.
One of the greatest uses of Twitter for television, though, is its ability to allow users to live tweet their thoughts. Our sidebar on the 2013 VMAs describes how one event shattered records for live tweeting.
About This Article
This article is from the book:
This article can be found in the category: