Hashtags have become part of the core culture of Twitter for many avid users. Basically, hashtags are a way to delineate a keyword that people can use to organize discussions about specific topics and events. Originally, the website Hashtags automatically tracked and displayed these hashtags. But Twitter occasionally turns off the portion of its API that the Hashtags site uses, so you can't always search it reliably.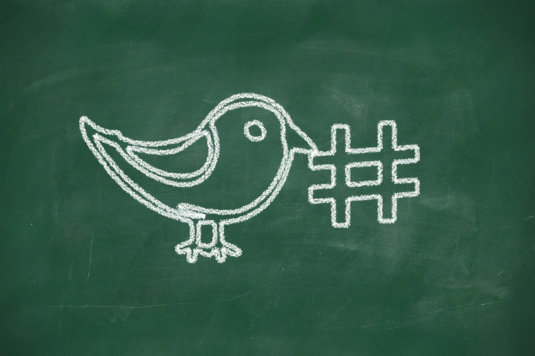 Credit: ©iStockphoto.com/lculig
Not all Twitter users like hashtags: Some users think that hashtags make the Twitter stream clunky. Admittedly, seeing Tweet after Tweet go by containing hashtags such as #GNO, #journchat, #justsayin, and #sxsw can seem noisy and disjointed if you don't follow or understand those hashtags.
You can always unfollow a heavy hashtag user if the hashtags really bother you, but don't pull the trigger too quickly: You can probably get used to hashtags, along with the rest of Twitter's quirks, before too long. The ability to tag Tweets is extremely powerful. People are just starting to figure out hashtags, which have a very interesting future. Even social sites such as Facebook, Instagram, and Tumblr have adopted the hashtag approach.
Conversations
Hashtags make it possible to quickly filter Tweets by topic, event, or other content by using an easy abbreviation that doesn't take up too many of a Tweet's 140 characters. Tweeps discussing the same topic can tag a conversation with a hashtag to allow others to discover that content through the hashtag.
Perhaps you're an avid Harry Potter fan. In that case, using #HarryPotter allows you and other Harry Potter fans to spot your Tweet more easily.
Live events
People at the same event or meeting can use the same hashtag. Later on, if you want to review the information related to that event or conference, you can simply search for the hashtag on Twitter Search to find all Tweets that reference it. Here, you see the results of a search for #MISTBoston14, for example.
Sure, you can search by keyword, but the # in a hashtag is a signal to others that the hashtag is the keyword to use to easily find, read, and share all Tweets on a certain topic or event. At the MIST Boston event, the organization made it clear in its promotional materials that #MISTBoston14 was the hashtag to use to tag conversations.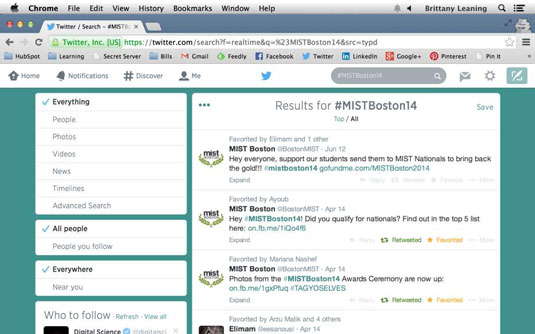 A hashtag that catches on forms an instant digital community. Most of these communities are short-lived. #MISTBoston14 is likely to fade out but rise in a new form as #MISTBoston15. Other communities have ongoing conversations, recurring real-time events, or even entire online movement.
Hashtags are handy for taking notes and having conversations during events, especially if the organizers say something like "Include #ourevent in all your Tweets." People tweeting about it just type the #ourevent tag in each Tweet to contribute to the combined flow of Tweets that everyone can watch and respond to.
More and more, talks and conference panels in the tech and media industries display the search results for the official hashtag, creating a shared billboard of ideas, notes, questions, and other information. People who aren't present at the event can participate in the discussion by searching the hashtag stream and following along with the presentation or speaker, just as though they were there.
Although hashtags can help your Tweets get spread and noticed by other users using that same hashtag, it's important to keep your Tweets from looking spammy. More than three hashtags look like spam and usually keeps people from reading your Tweets.
Beyond the number of hashtags you use, also carefully consider which ones you use. For example, using #MISTBoston14 along with #conference or #Boston further emphasizes where you are and what you're doing. But simply putting hashtags such as #fun wouldn't necessarily add any additional value to your Tweet.
Twitter chats
Suppose that you want to start a discussion or debate on Twitter, and you want to establish a hashtag for that conversation. All it takes to start a hashtag is use it in a Tweet. When you do, you start a Twitter chat. A Twitter chat is a gathering of people to discuss a common topic.
Trending hashtags
Near the bottom of the left column of your Twitter home page, you see the Trending Topics section. As millions of people tweet away, Twitter keeps track of the hot topics and displays and ranks them in Trending Topics. When you use Twitter, you can see topics and hashtags trending in real time.
If you click or tap any of the trending hashtags, Twitter pulls up real-time search results for that topic. You can use these results to gauge the popularity or success of anything from a person to a political theme to a marketing campaign. The results can also help you figure out what the global Twitter population finds newsworthy.
Often, when you see a celebrity's name trending on Twitter, that person had a big news day or recently passed away. (In the latter case, you usually see #RIP trending along with that celebrity's name.)
Trending hashtags give you real-time statistics on public appeal and can be a great resource for worldwide events, such as tsunamis and earthquakes. They can also be effective for finding announcements, such as Apple product releases and House of Cards season releases. By the same token, Trending Topics often picks up a lot of nonsense and off-target information, so take trending hashtags with a grain of salt.
Trending Topics defaults to global reach — meaning you'll see topics being discussed by any Twitter user in the world — but you can customize yours for any geographical location or to reflect what's trending for your Twitter network rather than for the world or a specific area.
To adjust the scope of Trending Topics, click the Change button in that section. A dialog box appears, allowing you to home in on what's most interesting to you.
About This Article
This article is from the book:
This article can be found in the category: