Like every social network, Twitter has its own set of optimal dimensions, so not every photo you upload to Twitter will appear properly in your friends' feeds. Although networks currently thrive on perfect square photos, Twitter's perfect photo is more horizontal.
By uploading your photos through the Twitter mobile app, you'll be able to crop your photo to the horizontal frame that works best in a user's feed.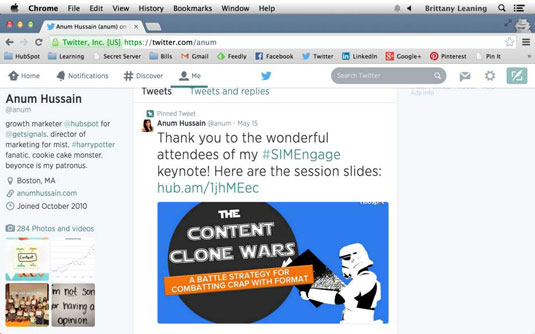 Here, you will find every photo type on Twitter and its proper dimensions. Twitter, like all social platforms, is constantly changing. But for now, these dimensions are correct and, hopefully, here to stay for a bit.
Adding flavor with a header photo
The header photo is the equivalent of a Facebook cover photo. This photo is a representation of your personality in your Twitter profile. Check out this cover photo made with Canva.com, a free online tool. Then, Instagram photos were added to the template Canva provided, and Canva did the rest.
Currently, the ideal header size for these images is 1500 x 1500 pixels. If you upload any horizontal photo, you should be able to move it around and make it look decent enough. But if you'd like to ensure that your Twitter header photo fits the exact header size, here are some free resources:
HubSpot's header photo templates: HubSpot has premade Microsoft PowerPoint templates that you can use to create and adjust your Twitter header photo.

Canva's free Twitter templates: Canva is a free tool for nondesigners that provides free, easy-to-use templates that you can customize for your own background.
Identifying yourself with a profile photo
Your profile photo is the square image that appears next to each of your Tweets. It's your main form of identification on Twitter and also appears in your profile. At this writing, the ideal size is 400 x 400 pixels, but uploading any square image should suffice.
Although you can use many tools and programs (such as Photoshop and PowerPoint) to crop a photo, mypictr is a free site that allows you to quickly upload a photo and select a network for which you'd like to crop a profile photo (in this case, Twitter). The site returns a Twitter-ready photo for you to upload and use as your profile photo.
Uploading photos with your Tweets
Although ideally you have to worry about your header photo and profile photo only once, you'll likely get into the habit of posting photos in your individual Tweets much more often.
To be clear, you can upload any photo of any size and orientation to Twitter. Users will be able to click your Tweet and see the photo. If you want photos in your Tweets to display well, go with a landscape (horizontal) oriented photo that is 880 x 440 pixels.
Here are some resources to help you upload the right-size photo (unfortunately, most of them are mobile-only):
Native Twitter app: The Twitter mobile application allows you to upload and crop your attached image for the ideal Twitter size. When you upload your photo with the app, tap the crop button, and you'll see a horizontal frame to work with.

Aviary mobile app: The Aviary mobile app allows you to easily crop your images to the proper Twitter size. Aviary is a photo-editing app, so you can also improve the quality of your image with it or add fun stickers over the image.

HubSpot's Social Inbox: If you're already paying to use HubSpot's Social Inbox, the marketing software also provides an easy-to-use image editing service that allows you to crop your image to the right size for Twitter. This feature works through integration with Aviary, but the benefit is that you can use it on your laptop.
About This Article
This article is from the book:
This article can be found in the category: