Similar to the content you see on many social media sites, you may see something on Twitter that you want to see again. You will likely have a favorite tweet that you want to find and revisit at some point. Here's how.
Revisiting Your Favorite Tweets
One of the icons that appear on Twitter when you hover your mouse over a particular Tweet is the star icon, or Favorites button. This feature started as Twitter's equivalent of a bookmarking tool. When you mark a Tweet as a favorite, it appears on your Favorites screen. You may want to mark a Tweet as a favorite to
Save it for later.

Acknowledge that it helped you or that you found it amusing.

Mark it so that you can reply to it later.

Remember it so that you can reference it in a blog post or article.

Save it to quote later.
Ari Herzog (@ariherzog) pointed out that favorites are untapped opportunities to collect testimonials and other Tweets that may have value for your company. Innovation software company Brightidea (@Brightidea) uses it to curate a great collection of Tweets about innovation, drawing on Twitter search results for keywords related to innovation. Don't limit yourself to using favorites only as literal favorites. Use favorites whichever way works best for you!
If you start using favorites on a regular basis, you'll soon have a large collection of Tweets that you can gather data from for various projects or reference when you need to remember a particular joke or comment. You can also use it to bookmark links to visit later. Many of your best links and referrals will come from your fellow Twitter users.
One way to find more people on Twitter is to visit your friends' profile pages on Twitter and look at their favorites, to see which Tweets they liked most. If your best friend marked a particular Tweet as a favorite, and you're not yet following the person who posted that Tweet, you may want to start following that person.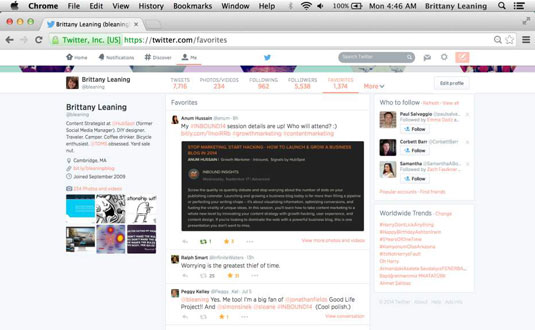 Searching favorite Tweets
Currently, Twitter doesn't offer a way to search your favorite Tweets and hasn't announced any plans to do so. While your list grows, you may want to find some way to catalog your Tweets. Some people use Microsoft Excel or Google Docs. Others keep a record of their favorite Tweets' permalinks (permanent URL) pages and tag them by topic, using bookmarking services such as Pocket and Evernote.
Indexing your favorite Tweets takes a bit of hacking:
To get to a Tweet's permalink, find the Tweet in your Twitter stream, and click the small link below it that shows the time when the Tweet was sent.

That link loads the Tweet on its own page, which you can bookmark because that page has a standard URL that always leads to that Tweet.

Add that URL to your favorite bookmarking service.

Follow your bookmarking service's directions for adding a URL.

If the option is available, tag the link so that you can search by topic later to find it again.
After you have a system in place for keeping track of Tweets that you want to save, you can find them whenever you need them.
About This Article
This article is from the book:
This article can be found in the category: