When you sign up for Twitter, you're prompted to check whether your friends are also on Twitter on the Find Friends screen. Finding contacts on Twitter can be a lot of fun!
The easiest way to find your friends is to import your friends and contacts from other services that you already use (such as Gmail, Yahoo! Mail, Hotmail, and AOL). You may be pleasantly surprised by how many people you know are already busy tweeting away.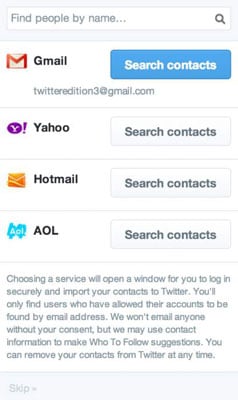 To import contacts and make them part of your Twitter world during the registration process, follow these steps:
Select the email account type from which you want to import on the left side of the Find Friends screen.

Click the Search Contacts button.

Type your email credentials in the Username or Email and Password fields.

Twitter looks at your contact list from your email account and gives you a list of all the people from your address book who are already on Twitter.

Having Twitter automatically find your contacts involves entering your email account password. Although Twitter has established itself as a trustworthy service, in general, be very cautious about sites that ask you for your email address and password.

Select the people you want to follow.

If you click the Follow #Selected button, everyone in your address book will be automatically followed for you. If you want to follow only some of the people in your address book, simply clear the check boxes of the people you prefer not to follow.

When you follow people on Twitter, you see their updates on your Twitter home screen.

Repeat these steps for all your other email networks, if you have them.

Invite friends, family, and co-workers to join Twitter.

Alternatively, if you didn't find all the people in your address book that you want to follow, you can invite them by using the Invite Friends via Email field below the address-book prompts.
If you're inviting multiple friends to join Twitter, remember to separate email addresses with commas to help Twitter identify each of the email addresses as individual units.
If you skip inviting friends and family to join Twitter during the registration process, you can always go back and do this later. Just search for people by first name, last name, or email address by clicking the #Discover tab at the top of any Twitter screen.
Using useful people-finding tools
Jumping into random conversations is a great way to find like-minded Twitter users, but it's not the only way. You can use a few tools to discover people on Twitter who share your interests or live near you.
One of the more interesting tools out there, TwitterLocal, helps you find Twitter users by geographic location. It's a great way for people who are interested in real-life meetups, as well as those in localized industries (such as real estate and car sales) who use Twitter to drum up business, to contact one another.
Twellow is another handy tool for widening the scope of your Twitter universe (which, yes, some call a Twitterverse). Twellow sorts Twitter users by categories based on keywords in the Bio sections of their profiles. Users can also claim Twellow profiles for any Twitter usernames that belong to them by proving who they are.
Claiming lets you edit the entry to add categories or remove incorrect categories. Twellow is searchable by name, location, or category, similar to an online yellow pages for Twitter (hence, the name Twellow).
Searching by using Twitter Search
Twitter also has its own search engine, known as Twitter Search, which you can access by typing in the search field at the top of any Twitter screen.
You can enter any keyword of your choice in the Twitter Search field, and Twitter not only brings you results in chronological order (with the most recent at the top), but also lets you know when people have made new Tweets that match your search criteria and gives you the option to refresh the search results.
You can use Twitter Search to find new people on Twitter by typing keywords connected to your interests or profession in the field. Bonus: Because Twitter Search sorts results based on how recent they are, the people you discover through this search are likely to be very active Twitter users.
Twitter Search was originally built by another web startup called Summize, which earned special access to Twitter's application program interface (API) to create a search engine for the microsharing service. Although Twitter acquired Summize and long ago renamed it Twitter Search, the Summize name was used casually for several years before dying out.
About This Article
This article is from the book:
This article can be found in the category: