Becoming famous on TikTok and cultivating a lot of followers starts with creating a TikTok account and building an audience from scratch. First, you need to find accounts to follow in your niche that will help you discover content ideas. Then, as you begin to get ideas for your own content, you can get better and better at creating viral videos. This success will even help you make money from your efforts, using TikTok for your business, if you like.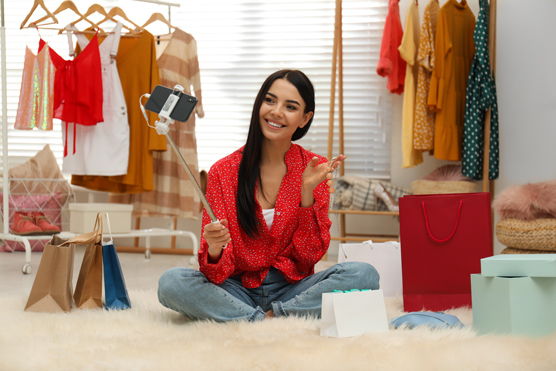 Fashion vlogger. © New Africa / Shutterstock.com
8 accounts to get you acclimated to TikTok
Do you need content to inspire your creativity? Are you looking for a few accounts to spark ideas for new content that will help you gain followers? Here are a few accounts to give you a head start in learning the world of TikTok:
5 Tips for making better TikTok videos
As you gain inspiration from those you follow, you'll probably want to improve your video content so that it attracts more viewers. These tips should help ensure success with every video you create:
Quality matters. The better your video quality, the more inclined your audience will be to watch the entire video. Poorly produced videos with bad lighting and sound are hard to watch, and most people won't stick around for more than a second or two. Invest in a good light ring, a good camera, and a solid condenser microphone if you want your videos to stand out.
Include your hook in the first 3 seconds of the video. At the very beginning of your video, say something that catches your audience's attention. This causes them to stop swiping up through the For You page and watch more of your video.
Add hooks every 3 to 5 seconds. You want to keep the viewer interested. Every 3 to 5 seconds, say something new that catches their attention even more, making them want to stick around to the end.
Give your viewers value. To make viewers crave more content from you and therefore follow your account, every video you create should provide value to your audience. Ask yourself, "Why would my audience want to watch this video?" and "How can my video truly help my audience?" before making each new video.
Consistency is more important than frequency. Every video you create should be specific to your niche and provide value to your audience. You should also produce content regularly so your audience can anticipate new content from you. It doesn't matter if you post several times a day or once a month, as long as you are consistent.
Ways to grow your audience and earn income on TikTok
Here are ways you can use TikTok to grow your audience and earn some income along the way:
Know your data and focus on your goal. Become familiar with TikTok's built-in analytics and what they can teach you. Also consider third-party analytic tools, such as Statistok and Tok Board.
Understand the tools and technologies your competitors don't. Knowledge is power. The more you can understand the tools and functionality in TikTok as well as its community, the more you'll have an advantage over your competitors. Embrace and be the first to use every new feature, beating your competitors.
Your content shouldn't look like advertising. TikTok's mantra for businesses is "It's not an ad. It's a TikTok." The content you create should look like something users would see from their best friends and favorite influencers, not what they would expect from a business.
Use your company's employees. One of the best ways to lose your followers' interest on TikTok is to create bland, brand-focused videos. Ask an employee or two to be the main actors of your company's TikTok account. Or, if you're the owner, perhaps you'll be the main actor. TikTok users love following accounts that are willing to be a little vulnerable about what happens behind the scenes, and this is especially true for businesses. If users believe they're following another human on TikTok, they will trust you enough to buy your products or services.
Understand the For You page. Knowing how the For You page works is key to understanding how your audience will see your content in their feed. Imagine the typical TikTok users, swiping up through your For You page, seeing content from their close friends, family, and favorite influencers. Beyond that, they are there to be entertained. Your content has to take this into account to stand out among the familiar faces they're used to.
About This Article
This article is from the book:
This article can be found in the category: