Sometimes, you might have to send a file that documents your experience instead of pointing people to your LinkedIn account. Suppose that your resume or CV is out of date, but your LinkedIn account is current. The easiest solution is to quickly take a snapshot of your LinkedIn profile and save it in a file that can be easily shared. PDF (Portable Document Format) is one of the most popular file formats for distributing information that is locked.

To export your LinkedIn profile to a PDF file, follow these steps:
Click the Me icon, and then click View Profile from the drop-down list that appears.
On your profile page, click the three dots to the right of your profile photo.

The drop-down list appears.

Click Save to PDF.

LinkedIn prepare your PDF file and then issues a prompt for you to save the PDF file on your computer or open the program on your computer using a program.

Click OK.

The PDF file is saved to your computer.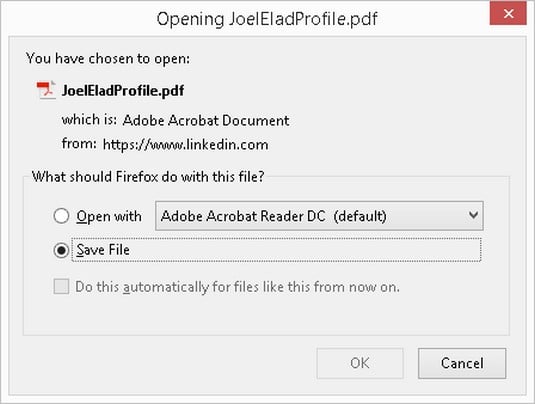 LinkedIn prompts you to save or open your PDF file.
In Step 3, if you chose instead to open the PDF file on your computer, using a program such as Adobe Acrobat Reader, you'd see your profile. Your name, LinkedIn headline, and email are at the top of the file, with your Summary, Experience, and Education sections organized neatly below, similar to a resume.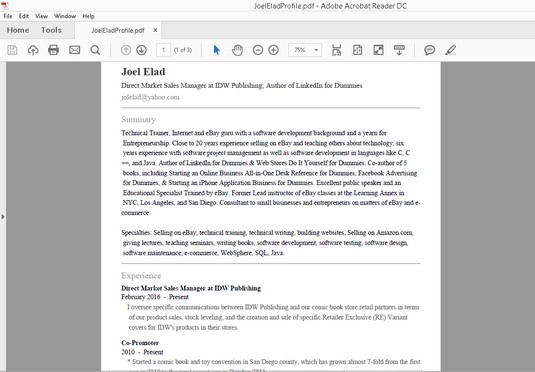 Your LinkedIn profile as a PDF file.
About This Article
This article is from the book:
This article can be found in the category: