The Beatles were right when it comes to the importance of friends. They do help you get by, but you have to connect with them first in Discord. Friends are people on Discord who directly connect with you. They do not necessarily have to be on your Discord server. Making that connection usually happens through an invitation.

So, if people can connect with your server and communicate freely with you on the various topics, why would you even need to have friends distinguished in Discord?

Friends in Discord (see the following figure) can be regarded as something like "Gold" or "Tier 2" status on your server. Friends can be given special privileges ranging from open direct messaging to being able to see what servers you have in common. It may seem that the distinctions may be insignificant at first, but there is something to having an inner circle of contacts, especially when your community starts to grow.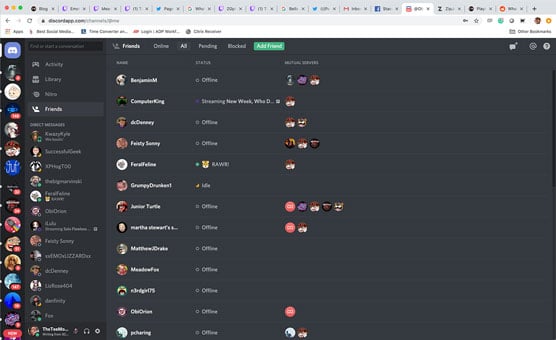 The Friends list in Discord offers you the ability to see who is on when you are on, as well as what other servers you have in common.
Finding friends online can be a pretty easy process once you know where to look and how to look.
1. In the Discord browser window, click Home and select the Friends option.
2. Select the Add Friend option on the far right and click it.
For new users, the Add Friend option is highlighted. Experienced users also have this option highlighted, in green, but it will not be as prominent as for those brand-new to Discord.
You can send a friend request to anyone on Discord, provided you have the user's name and unique four-digit ID number.
When adding friends, remembering the number can be something of a hassle. However, you can easily send a friend request to someone by clicking their username or avatar to pull up their Profile. By clicking the Send Friend Request button, you can easily reach out to make a connection with someone.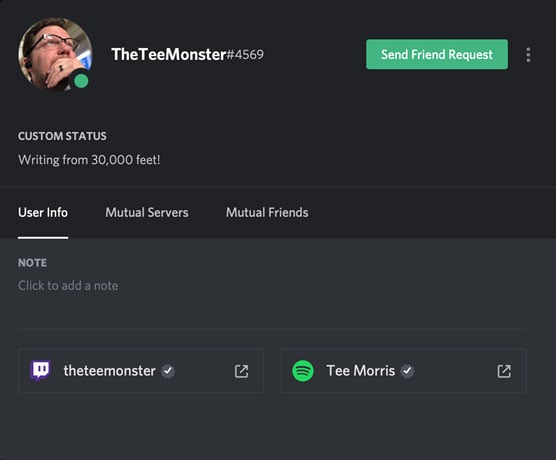 Making friends on Discord is easy once you know how. Click a username; then click the user's avatar to quickly find out more about them.
3. To copy your own username and four-digit ID number, move your cursor to the lower left of Discord and click your username at the bottom of the app.
By clicking your own username, both your name and your Discord ID number are copied so you can use it in other locations, like Facebook, Twitter, Instagram, and other social media platforms.
When a friend request arrives, the Home icon at the top left of Discord alerts you.
4. Click it, go to the Friends option, and then click the Pending option.
Any friend requests waiting for your approval appear here. They will remain pending until you accept or reject the request.
5. Select the check sign to accept the friend request or the X icon to ignore it.
And just like that, you are making friends on Discord. Now, remember, these are members of the inner circle of your server. It is a good idea to make sure those you are bringing on to your Friends list are people you know and people you trust. When you get to know folks in your community, it's not a bad idea to grow your Friends list and bring more people into that inner circle. It's good to have folks in your corner that you can count on and keep close when managing a community becomes tough to handle.
Thing is, be it your inner circle or your (growing) community, you will want to give people topics to talk about. These topics are called channels in Discord.
About This Article
This article is from the book:
This article can be found in the category: