If your eBay business plan involves buying items online for resale, you will need to take measures to protect your investment. There are many legitimate sources of goods on the Internet. But the Internet is loaded with scam artists; it's up to you to check vendors out for yourself before spending your hard-earned money.
Craigslist
If you haven't visited Craigslist in a while, you're missing quite a bit. You'll find anything and everything listed in the free local classifieds, and you never know when there will be something worthwhile to resell. This site is always worth at least a once-a-week visit. Much of the stuff on the site is listed by people who are too afraid (or maybe just technophobic) to sell on eBay. Focus on your category of interest and go to town. This Cartier Love bracelet was selling for $150. This item sells on eBay for up to $3,000!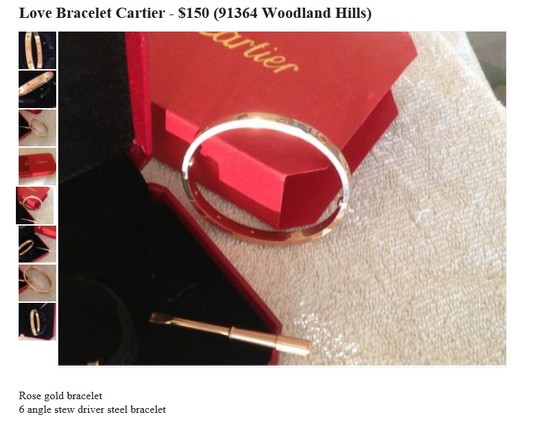 Craigslist is a super source for purchasing used items from technophobes.
Before buying an item like this one, definitely check the authenticity. Buyer beware — it's most likely a fake.
Tips for buying wholesale online
Because the online world can be fraught with problems, keep in mind the following: good thing. It's another way to verify that you're dealing with a true wholesale supplier.
B2B wholesale clearinghouses
Legitimate online sites for retailers are rare. Many of the business to business (B2B) merchants and wholesale directories reflect nothing but flea-market goods and highly marked-up drop-shipping items. Don't be disappointed. That doesn't mean you can't find a deal on some great merchandise. The benefit of the Internet is that you have access to many sources. The challenge is to find the good, solid, reliable sources of information, like the following:
Buying directly from online wholesalers
Following are a few sources that have some unusual merchandise.

It's best to buy from vendors closer to your geographic area because after you add the shipping fee, you might be paying too much for your lot. Liquidation.com can refine your searches to your location in the country, and it has a shipping calculator to help you know ahead of time how much your shipping may be.
About This Article
This article is from the book:
This article can be found in the category: