After you hook potential bidders on your eBay item with your title, you can use a fabulous description to reel in buyers. Think infomercial (the classier the better). A great description of your eBay item can help you close the deal.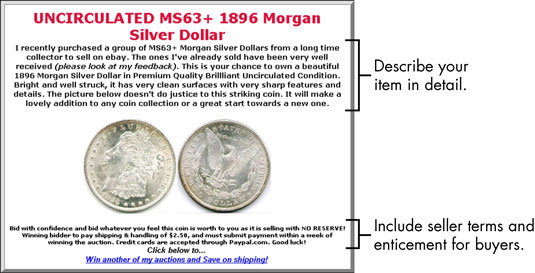 In your description, include information about your item that accentuates the positive. Give the buyer a reason to buy your item — and be enthusiastic when you list all the reasons everyone should bid on it. Unlike the title, your info can take up as much space as you want. Even though you use a photo, be precise in your description — its size, color, kind of fabric, design, and so on.
Don't forget to include the negative facts, too. Don't hide the truth of your item's condition. If the item has a scratch, a nick, a dent, a crack, a ding, a tear, a rip, missing pieces, replacement parts, faded color, dirty smudges, or a bad smell (especially if cleaning might damage the item), mention it in the description. If your item has been overhauled, rebuilt, repainted, or hot-rodded, say so.
Trying to conceal flaws costs you in the long run — you'll get tagged with bad feedback. And you run the risk of having the buyer file for a refund from PayPal because you weren't truthful about imperfections or modifications.
Also keep the following pointers in mind when writing your eBay item description:
Promote yourself as a seller in your item description. As you accumulate positive feedback, tell potential bidders about your terrific track record. Add statements like "I'm great to deal with. Check out my feedback section." You can even take it a step further by inviting prospective bidders to your About Me page (where you may also include a link to your personal Web site — if you have one).

Add personal well-wishes for your potential bidders. Communication is the key to a good transaction, and you can set the tone for your auction and post-auction exchanges by including some simple phrases that show your friendly side. Invite potential bidders to e-mail you with questions and offer the option of providing additional photos of the item if you have them.

Jazz up your item description with a bit of HTML coding, or you can use eBay's HTML text editor. If you know how to use a word processor, you'll have no trouble touching up your text with this tool.

Insert additional photos in your description and avoid eBay's additional photo charges by using the following line of HTML code:

Just insert the URL of your hosted picture, along with the picture's filename.
If you're offering an item as a presell, or an item that the seller doesn't yet have in stock but expects to, make sure that you spell out all the details in the description. eBay policy states that you must ship a presell item within 30 days of the auction's end, so be sure you'll have the item within that time span. Don't forget to include the actual shipping date.
About This Article
This article is from the book:
This article can be found in the category: