If you love to shop but can't stand to pay full retail for anything, then you may want to buy an eBay Daily Deal. eBay can send you a daily e-mail from eBay called the Daily Deal. All you need to do is sign up to take advantage of the eBay Daily Deal.
Each day, eBay works with sellers to select four very popular items and offer them for sale at very low prices — with free shipping! Best of all, getting on this wonderful mailing list is simple.
Go to the eBay Home page. You see a button that says Daily Deal under the top-of-page Search box. Click it. You arrive at the page that shows the day's four deals. On the top right is the picture of a little envelope. Click it.
Next you see a page where you confirm your e-mail address. Type in your e-mail address and agree to receiving the e-mails. Click Submit. That's it! You're now on the list to receive the Daily Deal e-mail. Happy shopping!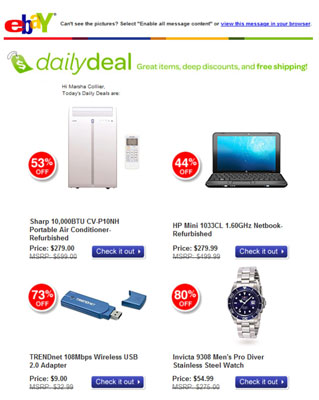 About This Article
This article is from the book:
This article can be found in the category: