An auction is an auction is an auction, right? Wrong! eBay has four types of auctions for your selling pleasure. Most of the time you'll run traditional auctions, but other auctions have their special uses, too. After you've been selling on eBay for a while, you may find that one of the other types of auctions better suits your needs. Here, let's review these auctions so you fully understand what they are and when to use them.
Traditional auctions
Traditional auctions are what made eBay famous. You can run a traditional auction for 1, 3, 5, 7, or 10 days, and when the auction closes, the highest bidder wins. You've likely bid on several and won at least a few. Maybe, you've also made money running some of your own.

You begin the auction with an opening bid, and bidders will bid up your opening price into a healthy profit for you.
Best Offer
If you've got a fixed-price listing, you can opt to insert a button under your sales price that encourages buyers to make you an offer on your item. This is probably one of the oldest sales methods around. (In some countries, it's an insult to buy something at the posted price; haggling is part of their retail culture.)

So, if you love the thrill of haggling, you can insert the Make Offer button into your listings at no extra charge. someone makes an offer on one of your items, eBay sends you an email asking that you reply to indicate whether the proposed price is acceptable to you.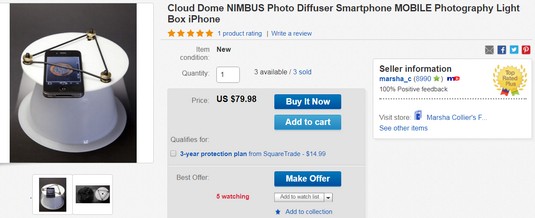 Make a deal on this.
Restricted-access auctions
eBay won't allow certain items to be sold in nonrestricted categories, so you must list them in the Adult Only category of eBay. eBay makes it easy for the user to find or avoid these types of items by making this area accessible only after the user agrees to the terms and conditions. Items in the Adult Only category are not openly accessible through the regular eBay title search, nor are they listed in Newly Listed Items. Anyone who participates in auctions for items in the Adult Only category on eBay, whether as a bidder or a seller, must have a credit card on file on eBay for verification.

Do not attempt to slip an adults-only auction into a nonrestricted category. eBay doesn't have a sense of humor when it comes to this violation of policy, and may relocate or end your auction. eBay might even suspend you from its site.
Private listings
The eBay Advanced Search page features an area where you can conduct a bidder search. You can find a list of the items that you've bid on in the past 30 days. Anyone not signing in on your eBay account sees a list of only the items you've won — but that's no real help. One December, one crafty daughter mentioned she didn't want a particular item — something her mom had just bid on — for Christmas. This creative daughter had been regularly perusing her mom's bidding action on eBay to see what she was buying for the holidays! A private listing would have kept this shopping secret.

Private sales also work well for the buyers who avail themselves of the services of the psychics, card readers, and fortunetellers on eBay and don't want their friends to think they are … well, you know. Sometimes it's just best to keep things quiet. No one needs to know just how much you choose to pay for something. As a seller, you have the option (at no extra charge) of listing your item as private.

The private auction is a useful tool for sellers who are selling bulk lots to other sellers. It maintains the privacy of the bidders, and customers can't do a bidder search to find out what sellers are paying for the loot they plan to resell on eBay.

The private auction can save you the potential embarrassment associated with buying a girdle or the tie that flips over to reveal a racy half-nude on the back.

Although the private auction is a useful tool, it may intimidate a novice user. If your customer base comes from experienced eBay users and you're selling an item that may benefit from being auctioned in secret, you might want to try this option.
About This Article
This article is from the book:
This article can be found in the category: