One of the first things you may want to do when analyzing your site's search engine optimization is find out who is already linking to your site. Or perhaps you'd like to know who is linking to your competitors' sites. The following sections look at how you can find this information.
Google for a link analysis
Google used to have a link search operator that purported to show you links pointing to a particular URL. For example, you would search for link:dummies.com to see pages linking to dummies.com. I explain this only because many people know about it, and thus someone at some point will probably tell you to use it. It's pretty worthless, for two reasons:
It never did a good job, showing only some of the links, not all.
Back in 2017 Google killed it ("deprecated it" in geekspeak).
So, it's a moot point. Goodbye Google link: syntax, and good riddance.
Link popularity software
There's another way to discover links pointing to a website. Various third-party tools, such as Moz Link Explorer, Ahrefs' Site Explorer, SEMRush's Backlinks tool, and Majestic actually have created their own indexes of web pages. Just like Google goes out and grabs web pages, these services do the same, but then analyze the pages looking for links to other pages and create databases showing all the links and where they point. These databases have information about hundreds of billions, even trillions, of web pages and the many trillions of links they contain.

I like Majestic — it has the biggest index — but many people use Moz or Ahrefs or another service because they like specific features of those systems, or they find them easier to use, while still reporting a large number of links. Most of these services let you try them out to get a feel for what they can do, and sometimes have free or very low-cost trials.

For example, if you want to try Majestic, go to their website and enter a domain name into the search box (you may have to scroll down a little to find it). Notice the Use Fresh Index and Use Historic Index option buttons. You'll probably want to use the Fresh Index, which is the default. If you select the Historic Index, you'll find many old links that no longer exist included in your report, though sometimes these can be useful, too. (You are allowed to use it a few times per day before being forced to create an account.)

In the figure, you can see the first results page. Here are some of the things you'll find:
Citation Flow: R; Citation flow is Majestic's equivalent of Google PageRank, showing how much value the incoming links have provided to the page. The higher the number, the more valuable the incoming links, and the more valuable an outgoing link from this page would be.
Trust Flow: This is Majestic's equivalent of Google Trust Rank. As with citation flow, the higher the number, the better.
External Backlinks: The number of links from other sites pointing to the domain you specified.
Referring Domains: The number of domains that have web pages linking to the analyzed domain.
Referring IPs: The number of IP numbers on the Internet that have websites with pages that link to the site. Links from websites on a small number of IP numbers is not as valuable, from an SEO perspective, as links from websites spread across a large number of IP numbers.
As you go down into the report, you'll find more information, such as
Top Backlinks: The links that MajesticSEO thinks are the most valuable.
Top Referring Domains: A list of the domains with the most links pointing to the site.
Top Pages: The most-linked-to pages on the site.
Map: Shows where, geographically, links are coming from.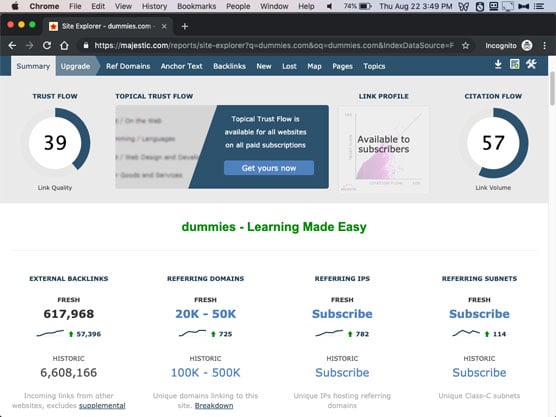 The first results page from Majestic.
And that's just the beginning. Create a full report to find details, and lots of them, including a full list of all the links pointing to the specified site, including where the links is placed, the link text, and the specific page that the link points to.
If you "verify" that you own your website (Majestic gives you a file to place in the root of your site), you get free reports about your own site. To check links to other sites and get the full report, you have to pay. It may be worth signing up for a month to do a good link analysis of competitors.
In fact, one problem with this system, for inexperienced SEO people, is that it has so much data that you don't know where to start. So, what is important? Here's what you should care about:
Where do links come from? What sites are linking to yours, or your competitors? You can get ideas for where to ask for links to your site.
What is the anchor text — the text in the links? Links with keywords are powerful. When analyzing competitors, for instance, you can often get an idea of how hard you have to work to beat their search-rank position, by seeing how well the links are keyworded; the more links with good keywords, the harder you have to work.
How valuable are the linking pages? What pseudo-PageRank do they have, for example, or pseudo-TrustRank (in the case of Majestic Citation Flow and Trust Flow)?
About This Article
This article is from the book:
This article can be found in the category: