Roku is a music, photo, and video streaming device. If you are looking for a way to "cut the cord" with your local cable provider, then look no further. Roku offers thousands of public and private channels delivering a huge variety of content!
What you need to know to purchase a Roku device
When first purchasing a Roku device, keep in mind that there are a few models to choose from, some of which are more robust than others. The models are as shown here: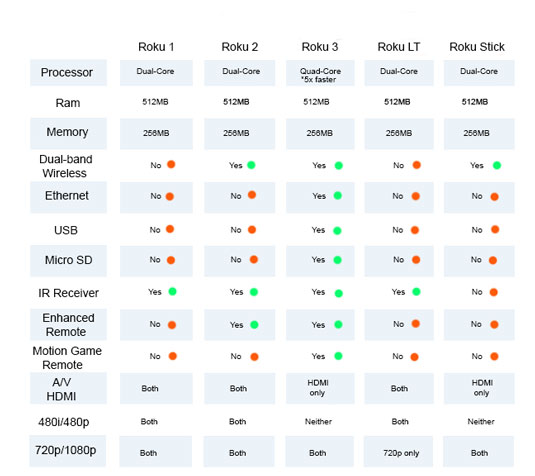 While the Roku LT may currently still be available at a discounted price from major retailers, Roku officially no longer supports or ships the Roku LT.
Roku 1
This Roku is designed primarily for use on older CRT/analog televisions as well as HDTVs. The Roku 1 comes with a standard IR remote including batteries, RCA A/V cable (red, yellow, white), and power cord. The Roku 1, 2, LT, and HDMI stick share the same processor chipset providing decent CPU speeds and matching picture quality.
Roku 2
The Roku 2 has the same features as its predecessor; however, this device is equipped with an enhanced Wi-Fi remote including a headphone jack, earbuds, and dual-band wireless.
Roku 3
The most expensive and most capable of all the Roku devices, the Roku 3 is built with a processor five times faster than all other models. This device comes with an SD card expansion up to 64GB, and USB 3.0 hub for hard drive connections — enough room for all the channels and games you can think of.
Included with the device is a Wi-Fi gaming remote with headphone jack and earbuds, power cord, and HDMI cable. Roku 3 is also equipped with a standard IR receiver so other Roku remotes or any supported universal remote can be used.
Roku Streaming Stick
The Roku Streaming Stick (HDMI version) is compacted into an HDMI thumb drive form factor and is intended for streaming without the need for extra wires. Perfect for hiding behind a publicly used HDTV. The Roku Stick comes with a Wi-Fi remote, USB power cord, and dual-band wireless. It does not offer other extras (A/V output, IR receiver, and memory expansion).
Roku TV
At the 2014 Consumer Electronics Show (CES), Roku Inc. announced the roll out of television sets with Roku UI and streaming built right in. Hisense and TCL manufacture these 32–55-inch televisions in China. Roku televisions are available at many major retailers.
The Hisense Roku TV is made in 40-inch, 48-inch, 50-inch, and 55-inch models and is available for purchase at Best Buy. The TCL Roku TV comes in 32-inch, 40-inch, 48-inch, and 55-inch models and is available for purchase at Costco.
The 32-inch TCL model comes with a downgraded video card supporting up to 720p/60Hz. All other sets 40–55 inches support full 1080p/60Hz with some models supporting up to a 120Hz refresh rate. These HDTVs come equipped with a simplified IR remote with a designated power button, 3 HDMI ports (HDMI3 — supporting ARC audio return connection), optical and headphone audio out as well as an NTSC built-in digital tuner, dual-band wireless, and USB media support.
The ARC-supported HDMI can connect the television to an external sound device, allowing both devices to act as one when using the Roku IR remote, enabling you to control the volume of your sound bar or surround sound along with the HDTV. This means that there is no need for a large number of extra remotes or adjusting volume on two different devices!
RCA, a well-known television brand, has also partnered up with Roku but instead of having the Roku UI built right into the HDTV, it is offered as a bundle, where you would buy the television and get a Roku HDMI stick included free with your purchase!
How to get started with Roku
When first plugging in whichever Roku device you have, the Roku will offer a welcome screen and assist you with network and account setup. Then the device will check for updates and reboot to the home screen.
At the home screen, you are presented with several options:
My Channels

Movies

TV Shows

News

Search

Channel Store

Settings
As a first-time user, you'll want to navigate through the different screens to get a feel for how the device works. After you are comfortable with the controls, go to the Roku channel store and search for your desired channels and games.
Install your choices and then select Settings, where you can check for channel updates and adjust user themes, automatic update options, and parental controls. After finishing the setup, power cycle the device, navigate to your desired channel, and enjoy!
You can watch current news and weather within local News channels (for example, FOX 11 KMSB channel or whatever your favorite local news feed might be). The feeds are not live but have same day available information provided from each channels website. For example, FOX 11 finishes broadcasting the news in the morning, and when they archive the news-stream online, it becomes available to the Roku channel.
Simply update the device to force an update to the specific news feed, and the new content will be displayed within that channel. Up to date or Live weather applications can also be added to the device through either the Public Roku store or private channel listings. If no up-to-date news is available through your preferred channel — an indication the channel provider does not update their online content regularly — try using another news source.
Public and private Roku channels
The Roku channel store comes with 1,800 or so channels and games; however, there may be some content or features you want out of your Roku that aren't listed in the public channel domain. . . Not a problem!
Roku allows the installation of private channels via a web browser. On your computer, tablet, or phone, search for private Roku, and a large list of private channel sites will populate:
Select the site of your choice.

Look for desired content.

Install by signing into your Roku account remotely.
The Roku site will confirm that you want to install the channel selected. Then the device needs to perform an update to make the new channel visible in your channel lineup list.
Private channels make the Roku boundless by providing a wide range of variety from adult content to weather applications. You can truly customize the media that you frequent.
Some channels require monthly or pay-per-view subscriptions, and some channels are pay-before-install! Make sure to take note before installing anything to avoid surprise charges on the credit/debit card you have attached to your Roku account.
M-GO, one of the movie and TV content providers for Roku streaming devices that you can access via a shortcut on the Home screen, offers a wide variety of shows to watch at a nominal price. You can either purchase individual items for $13.99SD–$18.99HD, or if this seems too expensive, a rental option is available for $1.99SD–$2.99HD for older movies and TV shows and $4.99SD–$5.99HD for new releases.
Since both standard definition (SD) and high definition (HD) versions of each video are provided by M-GO, you can choose the content that fits your budget.
If you choose to purchase any of these items, keep in mind that this device does not directly download the shows. M-GO streams their movies and TV shows from the cloud so that content is also available on other devices through either the M-GO website or M-GO mobile application and M-GO equipped smartTVs.
M-GO supports the new 4K resolution; Roku does not.
While M-GO provides content for purchase and rental much of the same media can be found with-in your personal channel list. For instance, PBS's Downton Abby costs $3.15 through M-GO, but if you add the PBS channel to your lineup list, the same videos will be listed under the full episodes for free!
Hulu+ is the only stream provider that offers next day available media legally so most content in the various channels will be at least a week old or older.
Features of Roku
Roku's advanced firmware allows for use of Wi-Fi remotes including applications available on smartphones. The Wi-Fi broadcast coming from the Roku is capable of wirelessly streaming your personal content form your phone, tablet, or computer.
The Wi-Fi connection designed for remotes and wireless display is known as a Wi-Fi direct connection, and a Roku signal will show as broadcasting on your local network. This feature is available on only dual-band models and is not considered a network security risk. The firmware allows access to only the Roku's remote services and nothing else on the device or network.
Roku Search lets you search for a movie or TV show and see the results across the top streaming channels. It includes pricing, so you can pick where you rent or purchase the media from and how much you pay.
Roku system updates
The Roku comes with the option to automatically update the device, in which the device will check for and install any updates available daily.
Because the device has no designated power button, the Roku is an "always-on" product; check that it is not in the middle of an update before resetting or powering off the product. If the Roku is powered off during an update, the firmware can be damaged rendering the device useless.
The Roku Stick is often powered through a USB port directly on the television. Powering the TV off turns off the Roku as well, and this can cause serious issues like system instability, crashing, and locking up if automatic update is turned on.
You can avoid this by using the cable to plug the stick directly into the wall, or you can disable this feature in the system settings portion of the home screen and manually update your device regularly (1–2 times a month) if you decide to power the product via the TV's USB port.
About This Article
This article can be found in the category: