The iPad online User Guide is similar to the Help system on a Windows or Mac computer. The online help guide is accessed through the Safari browser, as a bookmarked site.

Use the online User Guide to learn how to use your iPad, or to answer a quick question. For example, if you're curious about how to use Photos, the iPad User Guide is a great place to start. There, you'll soon learn how to take photos and videos, display your photos in a slideshow, or stream a video onto your HDTV.

Access to the iPad User Guide is quick and easy since it's right there on your iPad.
From the iPad Home screen, tap the Safari icon.
The Safari web browser starts up.
Tap the Bookmark icon. On the Bookmarks menu that appears, tap iPad User Guide.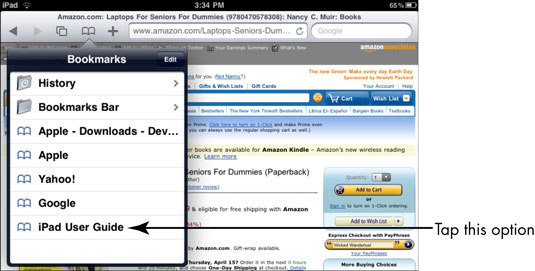 The iPad User Guide is displayed in the browser window.
Tap a topic on the left.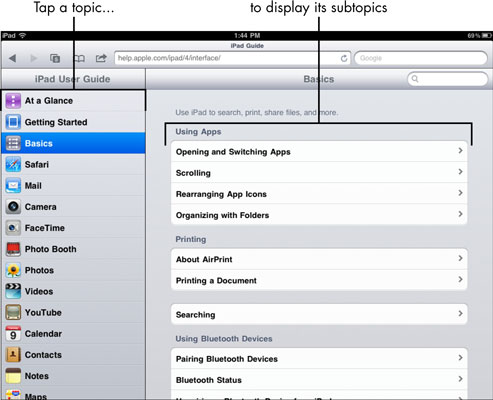 A list of applicable subtopics is displayed on the right side of the screen.
Tap a subtopic.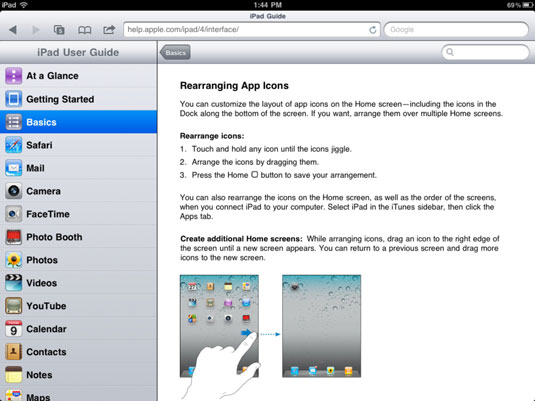 Information about the selected subtopic is displayed. Tap any link in the subtopic information to access additional topics.
Tap the Home screen button.
The browser is closed.
You can also access the iPad User Guide on your computer, through its web browser if you like.
About This Article
This article can be found in the category: