To record video on your Android tablet, switch the Camera app to Video mode. The Shutter icon becomes the Record icon. Tap that icon to start recording. The elapsed time, and maybe even storage consumed, appears on the touchscreen as video is being recorded. Tap the Stop icon to end the recording.
In the stock Android Camera app, swipe your finger from the left edge of the screen toward the center. You see a list of shooting modes on the right. Tap Video.
When Video mode is active, the Shutter icon changes to the Video icon. In some Camera apps, the Record icon (a red dot) is used instead. Tap that icon to start recording. Tap the Stop icon to end the video.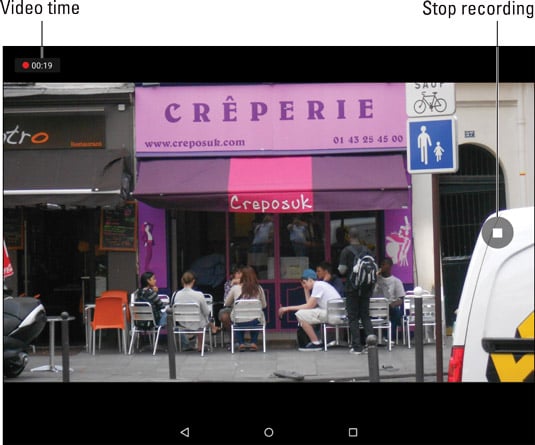 Shooting video in the Google Camera app.
Some Camera apps feature the Pause icon for recording video. Tap that icon to temporarily suspend recording. Tap the Record icon to resume. The video you record is saved as a single video as opposed to multiple videos.

Some versions of the Camera app may allow you to grab a still image while the tablet is recording: Tap the screen. The image is snapped and saved.
About This Article
This article can be found in the category: