Amazon Alexa is a voice service, a cloud-based software program that acts as a voice-controlled virtual personal assistant. In a nutshell, you use your voice to ask Alexa a question or give Alexa a command, and it dutifully answers you (assuming an answer exists) or carries out your request (assuming your request is possible). The key here is that Alexa responds to voice commands.

So, what can Alexa do? Some people think an Alexa-enabled device is nothing but a glorified clock-radio. And although it's true that you can use Alexa to tell the time and play a radio station, the limit with what you can do with Alex and Alexa Skills (like apps on mobile devices) is almost nonexistent: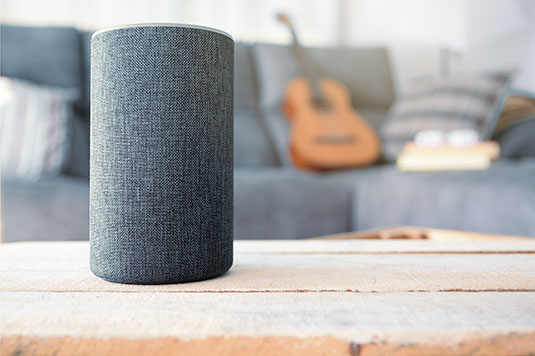 Source: ©Shutterstock.com
Playing media: You can connect your Alexa device to your favorite music service — such as Amazon Music or Spotify — which gives you voice access to millions of songs. You can ask Alexa to play a particular song, artist, playlist, or genre. If you have multiple smart speakers in your home, Alexa's multi-room music feature enables you to play the same music in each room that has a speaker. Alexa can also play radio stations, podcasts, and audiobooks; recite the text of a Kindle book; and, if your device has a screen, play shows from Amazon Video.
Communicating: One of Alexa's more surprising features is that you can use it to communicate with other people, even if they don't have an Alexa device. You can send text messages and place voice calls, but the real fun begins when you and the other person have Alexa devices with screens, because then you can make video calls to that person. If you have multiple Alexa devices at home, you can also use them as either a two-way intercom system or as a one-way intercom for making announcements.
Shopping: It wouldn't be an Amazon product if shopping weren't involved, so of course you can use Alexa to place orders through your Amazon account, check the latest Amazon deals, and track your shipments.
Getting help around the home: We're all busy, so who couldn't use an extra hand around the house now and then? Alexa has no hands, alas, but it can help big-time by making it easy to create a to-do list or shopping list; manage your Google, iCloud, or Office calendar; and set reminders for upcoming tasks. Alexa can also set an alarm and run a timer. It's mother's (not to mention a father's and kids') little helper.
Getting news and information: Alexa is always up on the latest news, so all you have to do is ask. You can even customize the news you hear by configuring Alexa's Flash Briefing feature. Alexa can also tell you the current weather and the latest forecast, give you traffic updates, let you know the scores and schedules for your favorite sports teams, and tell you movie showtimes at nearby theaters.
Answering your questions: If there were such a thing as a Swiss Army Knife for information, Alexa would be it. I've already mentioned it's a news anchor, weather forecaster, and sportscaster, but Alexa can also be a calculator, speller, dictionary, encyclopedia, and search engine. Ask a question, and the odds are in your favor that Alexa can find the answer.
Accessing skills: Alexa comes with tons of built-in features, but Amazon has set up a system that lets third parties add new features to Alexa. These features are called skills, and there are thousands of them available in Amazon's Alexa Skills store. There are skills for ordering a pizza or an Uber, playing games or trivia, tracking your fitness or your investments, and so much more. You can even build your own skills without programming!
Automating your home: Alexa is smart-home savvy, so it gives you voice control over many different home-automation products, including lights, thermostats, baby monitors, security cameras, and door locks.
Having fun: Alexa may seem like it's all business with its easy access to news and weather, its to-do lists and reminders, and its massive catalog of life-hacking skills, but Alexa has a fun side, as well. Alexa can tell jokes, read limericks, sing songs, tell stories, and play games. Alexa even comes with a large trove of so-called Easter eggs that bring surprise and whimsy to your Alexa conversations.
Amazon Alexa and Echo Setup
Alexa requires an Internet connection, so make sure your Wi-Fi network is up and running. Here's how to set up Amazon Echo Dot and other Alexa devices:

1. Install the Alexa app on your smartphone or tablet. You need a smartphone or tablet that meets one of these qualifications:
An iPhone or iPad running iOS 9 or later
An Android phone or tablet running Android 5 or later
An Amazon Fire tablet running Fire OS 3 or later
2. Sign in to your Amazon account with the Alexa app.
3. Give Alexa access to your device's microphone in the Alexa app Here's how.
In the Alexa app, tap the Alexa icon. You'll see some text telling you that you need to give the app permission to use the microphone.
Tap Allow.
Tap OK (iOS) or Allow (Android).
4. Position your Echo device where it's accessible to your family and within Wi-Fi range.
Make sure the device is close enough that you can give your voice commands without having to yell. Depending on the ambient noise in your environment, this usually means being within 15 to 20 feet of the device.
For the best sound quality, keep the device at least 8 inches from any wall.
Alexa devices require full-time power, so make sure there's an outlet close enough to the device.
5. Add your Echo device using the Alexa app, where you can give your Echo access to your Wi-Fi network.

The Alexa app is really simple to use and will walk you through all the settings you can play with to get your Echo set up just how you want it.
Compare Echo Devices and Choose the Right Alexa Device for You
With the exception of using Alexa on your phone or tablet, you can't do the Alexa thing until you get a device that's Alexa-enabled. That sounds straightforward enough, but that illusion of simplicity is shattered when you see the sheer number of devices that are available. Amazon alone offers no less than a half-dozen different Alexa-enabled devices just in its Echo brand of smart speakers. How are you supposed to know which one to get? To help you make the right Alexa decision, here's a quick look at what's available from Amazon's Echo brand so that you can compare features.
Echo
Echo is your garden-variety Echo smart speaker that's designed for larger rooms because it comes with two speakers: a 2.5-inch woofer and a 0.6-inch tweeter. It's fairly big — 3.4 inches in diameter and 5.8 inches high — so you may need to clear a spot for it.
Echo Dot
The Echo Dot is a smart speaker designed for smaller rooms because it comes with a single speaker and is quite a bit teensier overall than the Echo (about 3.9 inches in diameter and about 1.7 inches high). It's also half the price of the Echo, which is likely why it's Amazon's bestselling Alexa device.
Echo Plus
The Echo Plus is a smart speaker just like the Echo, but it also includes a built-in home-automation hub, which enables you to connect and operate compatible smart-home devices (such as lights, thermostats, and security cameras) from a central location. The Echo Plus is the same size as the Echo, but its two speakers are slightly bigger — a 3-inch woofer and a 0.8-inch tweeter — for richer sound.
Echo Spot
The Echo Spot is a smart speaker that's similar to the Echo Dot, except that it comes with a 2.5-inch screen that enables you to see the weather, news highlights, and song lyrics. The Echo Spot also has a built-in camera, so you can use it to make video calls to compatible devices. The Echo Spot comes with a single speaker and is 4.1 inches wide, 3.8 inches high, and 3.6 inches deep.
Echo Show
The Echo Show, like the Echo Spot, is a smart speaker that comes with a screen, but the Echo Show screen is big: just over 10 inches along the diagonal. That screen also supports high definition (HD) for great-looking video. The Echo Show also has a built-in 5-megapixel camera, so you can use it to make video calls to compatible devices. The Echo Show comes with two 2-inch speakers and is 9.7 inches wide, 6.9 inches high, and 4.2 inches deep.
Echo Auto
The Echo Auto is designed to hang out with you in your car. It connects to the Internet via your smartphone. The Echo Auto doesn't have a built-in speaker, but you can use it to connect to your car's speakers via Bluetooth or by plugging in an audio cable (assuming your car supports either of these options). The Echo Auto is 3.3 inches wide and 1.9 inches deep.
About This Article
This article is from the book:
This article can be found in the category: