To stop a program on your TI-84 Plus calculator while it is executing, press [ON]. You are then confronted with the ERROR: BREAK error message that gives you the option to QUIT the execution of the program.
The control command Stop is added to a program when you want to terminate the program before it reaches the end. It is illustrated in the first two screens here.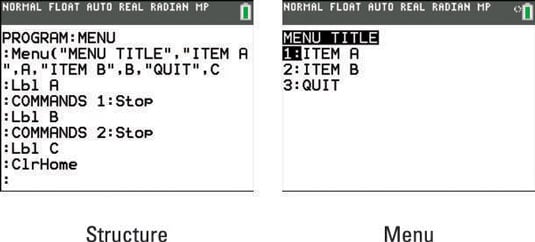 Placing the Stop command at the end of a program isn't necessary. The program automatically terminates execution when it reaches the last command.
When a program is executed, the output from the program is displayed quickly on the Home screen or in a graphing window. Sometimes it is necessary to pause the program so that the program user has time to view the results of a program output.
The Pause command temporarily suspends the execution of a program so that the user can see the program output. The execution of the program is resumed when the program user presses [ENTER], as in the program in the second screen here.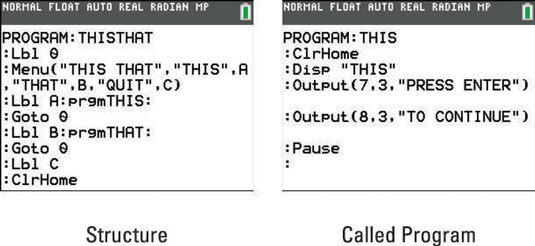 The program output appears in the following figure. The moving busy indicator in the upper-right corner tells the program user that the program is waiting for the user to press [ENTER] to resume execution of the program.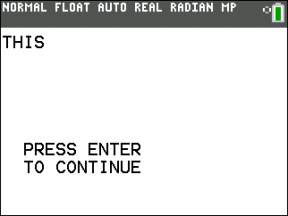 Because most program users don't realize that they must press [ENTER] to resume the execution of a paused program, you might want to precede the Pause command in the program with the reminder that the user must "press enter to continue."
About This Article
This article is from the book:
This article can be found in the category: