Some drones offer advanced flight controller applications that run on a smartphone or tablet. The Parrot AR Drone 2.0 works exclusively with their tablet application. Here is the Parrot AR drone control interface.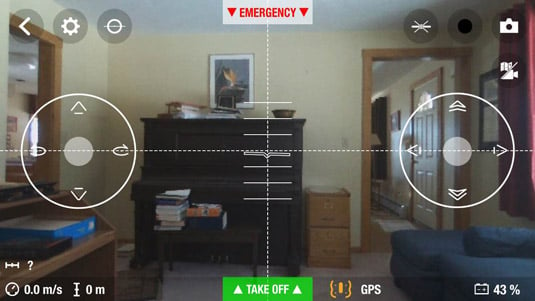 Credit: Courtesy of Andrew Amato
Parrot's control interface is high-tech and slick!
The DJI drones can work with an app in conjunction with an RC. The 3D Robotics drones also work with advanced applications as do the Pocket Drones. Flying with a smart device has clear benefits, such as:
First person flight: Fly with a video feed from the front of the drone. It's as if you were in the cockpit flying.

Advanced GPS controls: Plot a map that contains multiple GPS coordinates, and your drone goes on autopilot and hits each location. This is great if you want to be free to control only the camera. GPS tracking also communicates location back to your control so that you know precisely where your drone is at all times.

Diagnostic data: Track what your drone is doing at all times with a visual display. The drone's computer streams battery data to your smart device, giving you a real-time status of the charge remaining in your battery.
RC transmitters do not give you all of the high-end features that a smartphone or tablet controller might. But smartphone and tablet controllers don't have the range that an RC transmitter does.
To use a smart device with your drone, you need to pair the smartphone or tablet with the drone. The application will likely have instructions for how to do this and you can always refer to your device's user manual. If you have a Parrot AR Drone 2.0, use the following directions to connect your phone to your drone:
Start by connecting your AR Drone's battery.

The drone's system light will turn green indicating when you are ready to move to the next step.

Using your iPhone, tap the settings icon.

The settings screen loads, revealing several options for configuring your iPhone.

Locate the Wi-Fi button and tap it.

The Wi-Fi settings screen loads, presenting you with the option to connect to any detected wireless networks in the area.

Select ardrone_parrot wireless network.

Your iPhone indicates that the connection was successful by placing a checkmark next to the network in the Wi-Fi settings screen.

A checkmark indicates that you successfully connected to the AR Drone 2.0.
About This Article
This article is from the book:
This article can be found in the category: