Currently, operating a drone for commercial purposes is illegal in the United States. This nationwide moratorium on commercial drone usage has created space for numerous companies to get into the drone business by alleviating the need to quickly race a product into the marketplace. If you are thinking about how you might make some money with your drone, consider some of these commercial ideas.
Real estate
Listing agents of residential properties can use drones to create beautiful video tours of their properties. Using a drone to capture video footage of particularly large properties also makes it easier to capture areas that may be somewhat difficult to reach on foot during a showing.
Home services companies can benefit, as well. Exterior home inspections can now be performed with a drone, saving inspectors time, energy, and liability.
Golfing
Drones can be used to gather fantastic video of the golf course for marketing purposes. But beyond that, imagine stepping up to the 4th hole on St. Andrew's old course on the eastern coast of Scotland and being able to review a video of the hole before you take a club from the bag. Drones can be used by golf spectators to capture the game in ways that were previously not possible.
Drones can provide great value to golf coaches and pros as they work to improve the golf game of their protégés.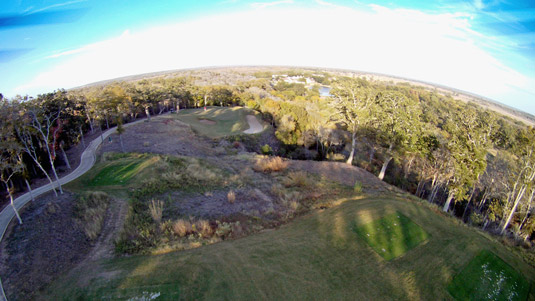 Credit: Source: Ed Schipul/Creative Commons
Be a better golfer with a drone!
Drones can also be used to calculate environmental differences at each hole in real time.
Inspections
Drones may prove useful for several types of inspections. For instance, oil companies can use drones to inspect pipelines in remote areas.
Wind energy engineers can perform inspections on wind turbines and turbine props without needing to bring in heavy lifting equipment, or put humans at risk of injury.
A drone can capture high-definition video of every joint, support, crack, and crevice on a bridge which can be more thorough than what a human engineer on the job might be able to do because of environmental variables and safety restrictions.
Agriculture
Drones make it possible for farmers to be able to address hydration issues by measuring water content of soil. This can help farmers identify whether they have drainage issues or irrigation problems. Drones can also be used to help farmers measure how fast their crops are growing in remote fields.
Drones can be used to detect the presence of crop-wrecking bugs and then even deploy hyper accurate pesticide applications instead of spraying an entire field.
With GPS technology, drones can be used take livestock out to pasture and keep the herd together.
Security
Drone surveillance has already been in the news quite a bit as it has been used to protect the American border with Mexico. Drones have been used to track and apprehend criminals. Drones are also being used in warzones to track fugitives and terrorists.
Drones can help educational institutions monitor campuses, detect abnormal activity and potential threats, and send help signals immediately to school administrators and law enforcement agencies.
Using drones to provide employee escorts to their vehicles at night, or even providing full-time drone surveillance of parking lots and structures, can help reduce incidents.
Weddings & special events
The most epic events of your life deserve epic documentation, and drones are the answer. Drones can be used to get aerial shots that were once unobtainable for the vast majority of couples. Drones also enable you to get beautiful footage of the bride walking down the aisle. Your big day just got more cinematic.
Aerial photography and video of major events such as concerts and sporting events are about to get much better with drones, as well.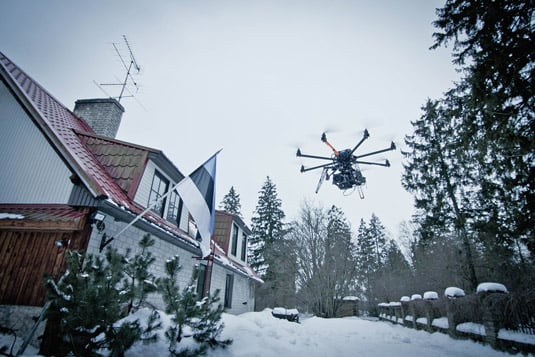 Credit: Source: Ville Hyvönen/Creative Commons
Great action shots taken by drones.
Search and rescue
In 2014, drones were introduced as a critical tool for locating people in areas ravaged by fire, flood, or other natural disaster. Drones can be equipped with sensors like infrared that can be used to locate humans in remote areas by their heat signatures. Streaming video can be used for visual identification of people in distress and GPS information gives rescue personnel the ability to precisely locate the distressed and send in aerial support to rescue people.
Special delivery
Technology giant Google recently gave the world a sneak peek into their drone project. Their custom-built drones take off and land vertically, but then switch orientation to fly more like a glider or plane, which gives them a greater flight distance. Google envisions their Project Wing initiative will help deliver supplies to humans in remote areas of the world.
E-commerce giant Amazon has also announced that they plan to use drones for same-day service of packages under a certain weight. Amazon's aerial package delivery system will be loaded with a delivery and programmed with GPS coordinates and then using advanced imaging technology, the drone would lower the package to a safe location like a front porch or driveway.
Land surveying
Drones have made it possible to do site surveying more accurately and in less time. Drones can be programmed to fly over hundreds of acres, take pictures and video, map elevation changes with LIDAR or other sensors, locate water and water flow patterns, detect the presence of different minerals and resources, you name it. The information can be analyzed and processed in shorter time because the process is automated with drones.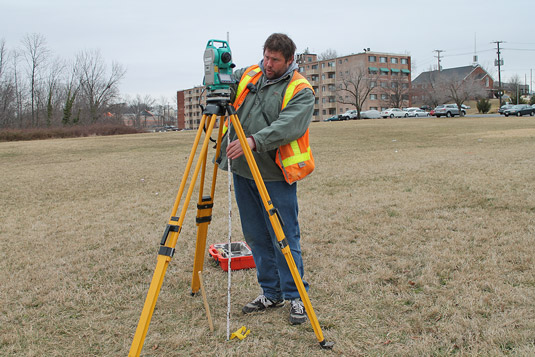 Credit: Source: Elvert Barnes/Creative Commons
Site surveyors surveying land with traditional means.
Insurance claims
With new technology, you could notify your insurance company of a car accident using a mobile app on your phone. The app could then transmit information including coordinates back to the insurance company whom could then take your coordinates and dispatch a drone to come out and gather pictures and video of the accident scene.
Drones can come in to document home damage with photos and video and speed the process up while reducing risk of accident on the insurance inspector.
About This Article
This article is from the book:
This article can be found in the category: